RNC Warning to CNN And NBC Over Hillary Clinton Films Sounds A Lot Like An Empty Threat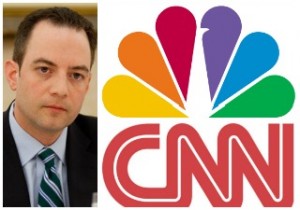 My initial reaction to the news that NBC is developing a Diane Lane-helmed Hillary Clinton miniseries while CNN is developing its own Clinton film that will be in movie theaters was a fair bit of eye-rolling and a prediction that given how Clinton is most likely going to run in 2016 (that is why the movie and miniseries are being made, right?), it's doubtful these networks would want to air anything too critical of the next potential leader of the free world. I'm sure the Republican National Committee and its chairman, Reince Priebus, all reacted the same way, but the threat they issued to not allow NBC and CNN to partner with them for 2016 debates feels more than a little hollow.
Let's start off with obvious problem number one: these projects were just announced. And while I stand by my aforementioned prediction, the fair thing to do (for a political party, at least) is to reserve final judgments for when the finished products arrive for us to consume. If the RNC watches the Clintontainment and concludes it's naught but a way to promote her 2016 candidacy, by all means go ahead and avoid them.
Obvious problem number two: technically speaking, Hillary Clinton hasn't announced her campaign yet. Yes, yes, yes, she's probably going to run, but there's a chance she probably won't. How do you think the Republican National Committee is going to look if they vote to refuse to collaborate on debates with networks that ran TV films about a Democratic politician who they're not even running against? A preemptive move like that without absolute certainty of Clinton's 2016 ambitions doesn't make much sense.
Not to mention if they withdraw and then it turns out the Clinton films have actually been presented fairly and without much political bias, they're going to look really petty.
But aside from the obvious, there's another reason none of this passes the smell test: the sudden realization from Republicans that there is a liberal bias in the media! Gasp!
Or wait, hasn't the GOP been talking about liberal media bias for years? All down the line, for years on end, you had Republicans and conservatives bashing every network but Fox News for promoting a liberal agenda, mocking their not-so-secret crush on President Obama, and, in the 2012 election, accusing many of the debate moderators of being biased against them.
And you're telling me the straw that broke the camel's back is Hillary Clinton: The Movie?
The 2012 Republican presidential candidates participated in a debate that aired on MSNBC. Let that sink in for a minute. After years and years of MSNBC's relentless bashing of the Republican party, the GOP agreed to a debate co-sponsored by NBC News and POLITICO that was broadcast on MSNBC.
Here's the kicker, though: this is supposedly one of the things the RNC is trying to fix in its 2012 autopsy. Remember that? Priebus himself even suggested one of the issues the GOP had last time around was, actually, their agreeing to host a debate on MSNBC. But again, if years and years of Keith Olbermann and Chris Matthews and Rachel Maddow and all the rest didn't deter them from hosting that debate…
Oh, and one more thing. Here's a choice passage from Priebus' letter to NBC.
There's ample cause for concern. Executives and employees of Comcast, NBC's parent company have been generous supporters of Democrats and Secretary Clinton. David Cohen, Comcast's EVP, raised over $1.4 million for President Obama's reelection efforts and hosted a fundraiser for the president. Comcast Corp. employees have donated $522,996 to the president and donated $161,640 to Secretary Clinton's previous campaigns.
Maybe they will actually pull the trigger and refuse to do any debates on NBC and CNN, but if the Republican party has been so concerned with liberal media bias all along, and they find these networks' political donations so troubling, why did it take a Hillary Clinton movie to decide they're mad as hell and not going to take this anymore?
—–
Follow Josh Feldman on Twitter: @feldmaniac
Have a tip we should know? tips@mediaite.com
Josh Feldman - Senior Editor