Rush Limbaugh Compares Rick Perry To Fidel Castro Over His Mitt Romney Criticism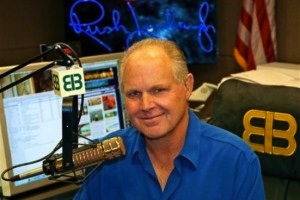 On his radio program Wednesday, Rush Limabugh slammed Republican presidential candidate Rick Perry over his criticism of Mitt Romney's work at Bain Capital, which the Texas Governor deemed "vulture capitalism." "I'm sorry, folks, that is indefensible!" Limbaugh exclaimed.
RELATED: Rush Limbaugh Destroys Newt Gingrich For Promoting 'Left-Wing Social Engineering'
"There's no way you can try to dress that up," Limbaugh fumed. "I don't understand it. Well, politically I understand it, but that's just absurd. It's sad. 'Cause I really, really, really like Rick Perry! I really do. I had such hopes! I did. I'll tell you, I did, but all of this talk about "corporate raiders," and as I listen to politicians start talking about capitalism, lights are going off in my head. "Maybe they don't really know what it is. Maybe they're under some misconception about what capitalism is, because this characterization of it? A distinction with venture capitalism and vulture capitalism? This bite from Perry doesn't compute."
Limbaugh thought that type of rhetoric was more akin to something Oliver Stone or Michael Moore would say.
"They popularized this, this is the way Fidel Castro thinks, or says he thinks!" Limbaugh added. "You know, today more than at any time in recent history, capitalism — which is nothing more than economic liberty; that's all it is — capitalism, economic liberty, is being assaulted on every front. The current occupant of the White House is a sworn enemy of capitalism. It's abundantly clear that Obama intends to run for reelection by running against capitalism. He's already on that path."
Watch Limbaugh compare Perry to the former Cuban leader below:

Have a tip we should know? tips@mediaite.com