Sally Kohn Responds To S.E. Cupp: Not Marriage, But Idea Gov't Should Reward It — That's The Problem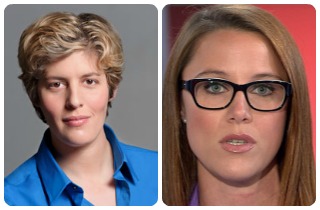 A collegial but heated political debate between Salon.com columnist, Sally Kohn, and MSNBC host and New York Daily News columnist, S.E. Cupp, has been raging this week over gay marriage and just how receptive same-sex marriage supporters on the left are of those who agree with them on the right. After Cupp criticized Kohn for deemphasizing the role marriage, either straight or gay, should play in society, Kohn responded in her column in Salon.com. She clarifies that it's not marriage that's the problem, but the government providing incentives for couples to marry that is, in her opinion, discriminatory.

RELATED: S.E. Cupp Blasts Sally Kohn For Downplaying Institution Of Marriage: 'I'm One Gay Rights Advocate' 'Not With You'
This week, Kohn wrote a post in Salon asking whether conservative supporters of gay marriage were truly helping the cause. "To the extent Republican support for gay marriage is based on imposing restrictive and regressive conservative social norms, it ultimately hurts gays — and all of us — more than it helps," Kohn wrote.
Cupp took exception to this post. On MSNBC and in her column, Cupp asked whether Kohn was saying that American society should move past the concept of marriage altogether. "If her project is to move the country not toward inclusive marriage rights, but beyond marriage altogether, I am one gay rights advocate who is willing to say 'I am not with you,'" Cupp said on Tuesday.
On Wednesday, Kohn responded to Cupp's criticism:
"I believe anyone who wants to get married should be able to get married. What I do not believe is that our government should privilege certain people and certain families based on whether they choose to marry or not," Kohn wrote.
I'm not accusing Cupp of being disingenuous. I believe her desire to promote equality and fairness for gay people is authentic and deep, as it is for many conservatives and libertarians. What I am expressing is a fear that many conservatives are trying to use the wave of popular support for gay marriage as a way to reinforce regressive values about families and sexuality that implicitly still allows gay people (and others) to be ranked second-class or worse. We should not allow the cause of gay marriage to be used to suggest that certain kinds of families are better than others. All families must be treated fairly and equally.
> >Follow Noah Rothman (@NoahCRothman) on Twitter
Have a tip we should know? tips@mediaite.com