Sarah Palin Finally Takes Questions From The Media And Appears Relaxed, Friendly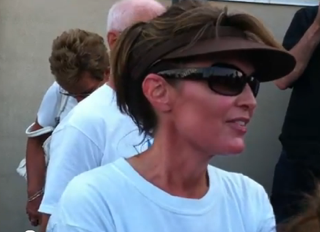 After two days of keeping the press entirely in the dark as to her motives and actions, Sarah Palin has finally broken her silence to the press in an informal three-minute Q&A, and exhibited a side of her that rarely grabs the headlines of the mainstream media– friendly, intimate, and with guard apparently totally down. While she joked she didn't "have a choice" about the media following her on this tour, the smiles and handshakes indicated that, for a change, Palin was at peace with those who cover her.
Palin met with the media after an event in Gettysburg tonight, where she met with fans and smiled for pictures. She gave cheerful answers to questions about why she resigned from her governorship and what her tour is all about. To the latter, she recommended people read Going Rogue for the full story, but cited "frivolous ethics charges and lawsuits that were going to bankrupt the state and my family personally" as the reason she left, and emphasized that she was currently not campaigning. The One Nation tour, she noted, was "to make sure that people are aware of the good things in America that really needs to be restored and appreciated." Asked what her platform would be should she run– she refused to give any indication of whether she was closer to running or not because "there is still a lot of time"– she echoed this sentiment once again: "it's all about allowing the private sector to grow and prosper."
Then she got a question about the media: namely, whether she was comfortable with them tagging along for her tour. "I don't think we have a choice!" she laughed, and added that she didn't want "to disrupt others" as she went on the tour, but didn't accuse the media of being behind that disruption or say anything negative otherwise. It was almost as if the defining theme of her career wasn't that the mainstream media routinely distorted the facts and attempted to assassinate her character. For once, the media was not the enemy, but just another traveler along for the ride.
Palin never answered whether she would run for president but, then again, she doesn't need to yet. Palin has dominion over a political action committee and is considered by many in the party to be a kingmaker (or, for those that don't like her, a cheerleader). She has taken up with zeal the task of rallying the base and making sure Republicans can get out the vote, and a tour around the country meeting with people and talking about issues is entirely consistent with that role.
There is another factor to this trip that appears to have fallen by the wayside, but would explain the apparent aimlessness of it– Palin brought her family with her (youngest daughter Piper, according to the New York Times, was the least amused by the media's questions). She isn't the first or the last potential candidate to consider the impact the trip would have on her family, and by taking them on a bus tour around the country, she is giving them a test drive of what their lives would be like in the next year or so. She gets to shake hands and kiss babies, talk about her platform issues, and expose her family to the lifestyle of a presidential candidate. But because Palin has insisted she isn't running yet and has yet to make any verbal challenges against fellow Republican candidates, the odds of the Palins already experiencing the intense scrutiny that comes with a fully-launched campaign run are slim. One could expect that a positive reaction from the Palin children would do wonders for the odds that Palin sincerely considers a presidential run.
That lack of official pressure seems to have brought out a far more relaxed Palin that the one typically confronting the media– laughing and joking with reporters instead of accusing them of bias. A Palin like this is difficult to reconcile with the combative one many of her detractors consider contrived, and thus disarms many of them. If Palin really is considering a run for president and is considering a reconstruction of her image, laying out her political beliefs openly, without anticipating hostility, may be exactly what she needs to reach those elusive independents.
Her press chat (shot by Michael Shear, via NY Times) below:
[h/t Michael Shear]
Have a tip we should know? tips@mediaite.com