Is The Clock Ticking On Helen Thomas? Sarah Palin Slams Her On Twitter (UPDATED)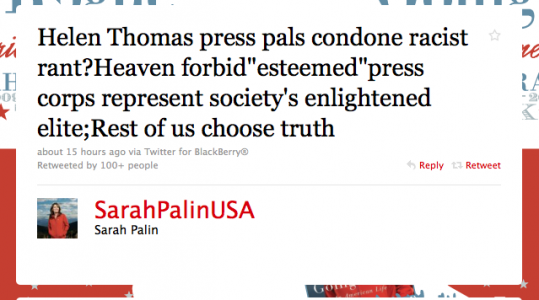 Sarah Palin has turned her Twitter sights on White House correspondent (she is officially a columnist for Hearst Corporation) Helen Thomas. Thomas made headlines the other day after she told Rabbi David Nessenoff of Rabbilive.com that she thought the Jews should 'go home,' and then further defined 'home' as Germany and Poland. She has since apologized for the remark — though one wonders if it is actually possible to properly apologize for such an egregious statement – saying that she deeply regretted the statement. One suspects that regret may deepen in the coming week — the story blew up late Friday afternoon — as the cable news hosts get a hold of it. And it may not stop there.
As Palin's tweet alludes to some of the criticism aimed at Thomas has overflowed on to the White House Press Corps; namely, should (or really, when) the Press Corps be covering the questionable behavior of one of their own. Thus far Thomas' remarks have not received much coverage in the mainstream media (if it was mentioned on the Sunday shows this morning, I missed it, though it should be noted both Meet the Press and Chris Matthews were bumped by French Open coverage). Former Bush press secretary Ari Fleischer told HuffPo that he thought Thomas should lose her job over this, but otherwise the remarks have not made national headlines. I suspect this is going to change tomorrow, and I also suspect more than one Press Corps member will be pressured to respond, as will Robert Gibbs. Palin's twitter was likely just the opening shot.
Side note: As SarahInItaly points out below in the comments, Thomas made these remarks while attending the American Jewish Heritage Celebration Day at the White House, which took place on May 27. The flotilla incident, meanwhile, occurred on May 31. Meaning, Thomas' remarks were a stand-alone statement (at a Jewish festivity at the White House, no less) and not a response to the flotilla incident.
Update: Joe Klein has just weighed in: "The front row should be occupied by working reporters, not columnists. The WHCA should sanction Thomas by sending her back to the cheap seats. This would accurately reflect her current status as a journalist while preserving her First Amendment right to be as obnoxious as she wants. Finally, I don't see any reason why the President, Robert Gibbs or any other representative of the government should feel any obligation to take her questions."
Update #2: Politico is reporting that Thomas been dropped by her agency. I strongly suspect Thomas will be out of a job by week's end.
Have a tip we should know? tips@mediaite.com