Scarborough On Gingrich: Park51 Controversy Is 'Demagoguery Of The First Order'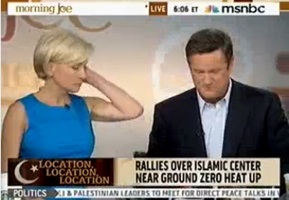 The crew at Morning Joe took on the controversy surrounding the Cordoba House — also known as Park51 and the Ground Zero Mosque — with the sort balanced, thoughtful and bipartisan commentary that sets it a part from other morning news programs. Host Joe Scarborough opened by citing yesterday's Frank Rich column in the NY Times who claimed that this Ground Zero Mosque controversy was actually hurting the efforts of General David Petreaus. He then took direct aim at his 'Republican brethren," namely Newt Gingrich, and plead that the GOP distance themselves from what he called "demagoguery of the first order."
Writing for Raw Story, David Edwards sets up the conflict between former (and future) GOP elected officials:
MSNBC's Joe Scarborough told Republicans Monday that they should "speak out against Newt Gingrich and the voices of hate." While he was at it, Scarborough threatened to leave the GOP for a party "that actually believes in small government."

Last week, Gingrich compared supporters of the mosque to Nazis. Appearing on Fox & Friends, Gingrich said, "Nazis don't have the right to put up a sign next to the Holocaust museum in Washington."

Prior to that, Gingrich argued that the mosque shouldn't be built near Ground Zero until churches and synagogues are allowed in Saudi Arabia.
In the following segment, Scarborough leads the discussion of the controversy with former Democratic Rep. Harold Ford and Morning Joe regular Mark Halperin who all appear to agree that the GOP has politicized this story for not other reason than to diminish President Obama. But it was Scarborough's plea with his own political party to distance themselves with what he saw as polarizing rhetoric of Gingrich, promising that if they didn't, they would come to be embarrassed by their position on this issue in the coming years.
A rough transcript of the heart of Scarborough's plea to his fellow Republicans:
This is demagoguery of the first order. And the Republican party…people in the Republican Party need to separate themselves from these voices. They need to separate themselves. And I talk to my you, my Republican brethren, I don't know how much longer you will be my brethren – I'll be honest I'm looking for a conservative party that actually believes in small government and not engaging in Wilsonian wars – but that's another discussion. I'm talking to you as a friend.

I promise you this, you're going to be embarrassed. You're going to look back two, three, four years from now and this is going to be a dark blot on your record if you don't speak out against Newt Gingrich and the voices of hate. Not on the right. Because this has nothing to do with small government. There are demagogues on left and the right. This is an embarrassment and you need to speak out against it.
Watch the complete segment below (H/T Rawstory):
Update: Scarborough has kept up his attack on Gingrich via his Twitter feed, sending out the following tweets in last few minutes:
@JoeNBC: Also, Newt's position has been that this Muslim building can be stopped by the State regardless of the First Amendment.

@JoeNBC: There are many good, open-minded people who oppose the GZ project in good faith. Newt doesn't seem to be one of them.

@JoeNBC: I respect those who have good faith objections to the GZ project. I do not respect those who play to fear and give in to hate.
Have a tip we should know? tips@mediaite.com