Sharron Angle Tells PAC She Opposes Gay Adoptions, Wants Clergy To Endorse Candidates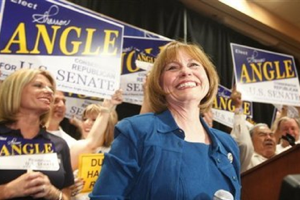 Nevada Republican Senate candidate Sharron Angle seems unable to make any political statement without making some jaws drop– a quality she has attributed to the fact that the press is not her "friend." But even without the press around, as demonstrated in a questionnaire she answered for a conservative PAC, her policies are controversial: she says she supports legislation to ban adoptions by gay couples, allow clergy to endorse candidates, and restrict the sale of pornography. The PAC endorsed her.
The questionnaire was obtained exclusively by the AP, and, perhaps because Angle knew she was answering the questions of a more favorable audience, provided some extreme answers to questions about social issues. For one, Angle claimed she would be a strong opponent of the right of gay couples to adopt children in the Senate and opposes making sexual orientation a protected minority under the Constitution. A fetus, however, would be protected, according to her interpretation of the Constitution, and she would push legislation banning abortion "in all cases."
But it is perhaps her views on the First Amendment of the Constitution that are most shocking. Angle, according to her spokesman, "believes it is improper for the federal government to use the threat of revoking tax exempt status against churches and pastors" in a case where said churches and pastors are endorsing political candidates. She writes to the PAC that she would like to see religious organizations have the right to endorse political candidates straight from the pulpit (this would be a good place to note the PAC she filled out the questionnaire form is named "Government is not God").
In response, Senate Majority Leader Harry Reid's campaign called her positions "radical" and "frightening."
The last time we checked— before Angle's comments about being friendly to the media and these new positions on social issues– Angle was trailing 46% to 48%, with a trend in favor of Reid swelling. Given that Angle did receive the endorsement of this organization– which has also endorsed Marco Rubio in Florida and J.D. Hayworth in Arizona– it is difficult to gauge whether the public knowledge of these opinions is a good or bad thing for her campaign, as she did win the nomination based on the fact that she her ideas were this radical, but it's hard to see this doing anything positive to her approval ratings among moderates and independents, and even the most staunch Republicans might have a hard time understanding why she insists on religious institutions having a direct hand in American politics.
Have a tip we should know? tips@mediaite.com