Tea Party Vs. GOP: The Delaware Primary Might Foretell The Future For Conservatives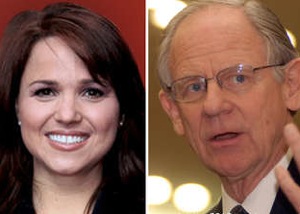 Thought its easy to overstate such thing, its fair to say that some are seeing the Delaware Republican primary as a bellwether for the future of the conservative movement. The two candidates vying for VP Joe Biden's former Senate seat are two-time Governor and now Congressman Mike Castle and tea party backed, Palin-endorsed candidate Christine O'Donnell. ABC News' Jonathan Karl visited the mid-Atlantic state and interviewed the pro-abortion rights, pro-gun control Castle, who has until very recently been considered the odds-on favorite.
Karl sets-up his interview nicely on his ABC News blog:
I've never seen a more bitterly divided primary. Republican leaders say an O'Donnell victory would destroy the state party and pretty much ruin any GOP chances of capturing Biden's old seat.

"I have no doubt if she by some miracle became the nominee she would lose the seat by unprecedented numbers," the Chairman of the Delaware Republican Party, Tom Ross, told ABC News.

Congressman Mike Castle is considered a slam dunk to capture Joe Biden's old Senate seat. Castle is a pro-abortion rights, pro-gun control Republican who often works with Democrats. Those traits have helped make him the most popular Republican in a state that leans heavily Democratic; Castle has twice been elected governor and nine elected as Delaware's sole representative in the House.

But Castle's moderate politics have enraged tea party activists and given Christine O'Donnell and opening.

"The Republican Party has lost its way," O'Donnell told ABC News. "They get behind candidates like my opponent who don't even support the Republican platform, who continue to support the Democrats' agenda, lock-step-and-barrel."
Karl's interview with Castle is a fascinating look at rare breed of politician – a Republican who has stuck to what many consider to be socially liberal issues regardless of how it effects his standing in the polls. The nation is watching this primary, as it may very well foretell the future of the conservative movement.
Have a tip we should know? tips@mediaite.com
Colby Hall - Founding Editor