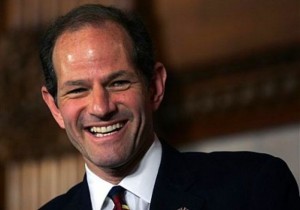 In this morning's summary of shifts in the Power Grid, we noticed that former Governor Eliot Spitzer had mounted a comeback and cracked the top 5 TV Pundits, putting himself right back in the spotlight. We chalked his most recent surge in face time up to some big money real estate deals and a new scandal involving a former aide, but this explanation overlooks Spitzer's well-paced and respectable return to form. How has he once again become a man to watch?
In a July 2009 Vanity Fair article, over a year after he resigned as Governor of New York, Spitzer was asked if he thought his affair would ever go away. "No. My obituary's written," he told the magazine. "And that is a very hard thing to live with," he said, reportedly in tears. But he had to know his renaissance had already begun.
In December 2008 Spitzer started writing a column on government and economics for Slate and only a few months later he was invited to give his first post-affair speech to New York's Entrepreneurs Organization. But in the months since, as the summer of 2009 came to a close, Spitzer's name seemed to lose its sleazy connotation and the elephant in the room seemed to be stomping its way out the door. Sure, the New York Post's cover campaign — scantily sourced articles about Spitzer's return to politics — were a tad ridiculous, but the man has passionately reentered the public dialogue and demanded respect by remaining level-headed, letting his ideas (and charm) speak for themselves.
On television, Spitzer has truly excelled, putting his personality and reasoning on display. Repeated appearances on MSNBC allowed him take on the Federal Reserve (clip below) and Bloomberg TV asked for his input on Goldman Sachs. CNN, meanwhile, hosted Spitzer in his first public interview after the prostitution scandal, but took the time to ask for his take on the financial meltdown and allowed him to measuredly speak on policy.
In the past month, his good fortune and respectability only increased. He is now teaching a course at City College of New York entitled "Law and Public Policy," and appeared on Real Time with Bill Maher late last month, where he seemed confident and animated, even speaking in favor of legalizing marijuana. If his words and smiling face can make people forget, can Spitzer's intelligence and ideas bring him back to office? It may be too soon to tell, but barring another slip, his trajectory appears clear.
Check out Spitzer on MSNBC discussing the Fed
Have a tip we should know? tips@mediaite.com