The 'White Guy Cabinet': The First Pointless Controversy Of Obama's 2nd Term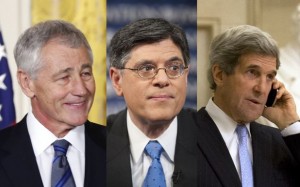 President Obama hasn't even been sworn in yet for his second term, and there's already a huge controversy brewing in Washington over Obama's "white guy Cabinet," referring to the recent spate of white males being appointed to top Cabinet positions. And while Obama's overall appointment record gives him a slight advantage in diversity over his two predecessors, the optics at present admittedly do not look good when run through the media filter. But forget the optics, let's take a moment and celebrate the first big, ridiculous, and ultimately pointless controversy of the new year and a new term.
RELATED: Huckabee Slams Obama's Own 'War On Women': 'So Much Testosterone' In The Cabinet And 'So Little Estrogen'
Mediaite's Tommy Christopher covered some of the flak the Obama administration has been taking for its picks yesterday, but with this story getting much more steam in the media, I have to ask why this has become the big controversy that it has been. Most people who voted for Obama, I would expect, care more about the qualifications of his political appointees than their race or gender.
Let's look at the first reason why this is so ridiculous: with the exception of Hillary Clinton, all of Obama's "white guy" nominees thus far will be replacing other white guys. And, if you'll recall, Obama's first choice for his second-term Secretary of State was a black woman. Susan Rice could have been the third consecutive female Secretary of State, not to mention her appointment would have made three out of the last four State Department heads African-Americans. But if you've been paying attention to the news at all since September, you'll remember exactly why Rice's appointment didn't exactly work out.
Another reason why this is particularly ridiculous is that on the whole, Obama's Cabinet is actually fairly diverse. We have two Asian Cabinet members: Energy Secretary Steven Chu and Veterans Affairs Secretary Eric Shinseki. Attorney General Eric Holder, an African-American, is staying on for Obama's second term. Also staying on are Kathleen Sebelius at Health and Human Services and Janet Napolitano at Homeland Security. Do these people not count? And in spite of the fact that Holder, Shinseki, and Chu are not white men, does the fact alone that they are men make them not count?
There is, of course, one more reason why this whole thing is completely ridiculous. Obama still has Commerce and Labor secretaries to appoint. Commerce has had an acting head since last year, and Labor Secretary Hilda Solis stepped down this week. Obama hasn't announced their replacements yet, so maybe we all should reserve judgment on the makeup of Obama's second-term Cabinet when it's finalized.
John Nolte over at Breitbart sums up why this controversy is such a waste of time.
Through this growing, coordinated criticism, the media is deliberately pushing the idea that identity politics is a virtue above and beyond one's qualifications. And that's their only opposition to these nominees: gender and skin color (remember when such a thing was called "discrimination?").
Nolte also makes the interesting point that of all the reasons anyone would be up in arms about any of Obama's nominees (Chuck Hagel's alleged anti-semitism, for example), why is it the racial and sexual makeup of the Cabinet itself that has captured so much media attention?
Diversity is obviously something a president should strive to maintain in government, and Jay Carney said Obama did "insist… on diversity" in his lists for potential nominees, but the absolute top priority for any president is picking individuals who they believe to be supremely qualified for the job. Diversity of race and gender should certainly be factors for any president to consider, but ultimately, they are second to having diversity of thought.
[Image via]
—–
Follow Josh Feldman on Twitter: @feldmaniac
Have a tip we should know? tips@mediaite.com
Josh Feldman - Senior Editor