Trump Sons Mock Michael Cohen Claim He Never Wanted a WH Staff Position: 'Did He Just Perjure Himself?'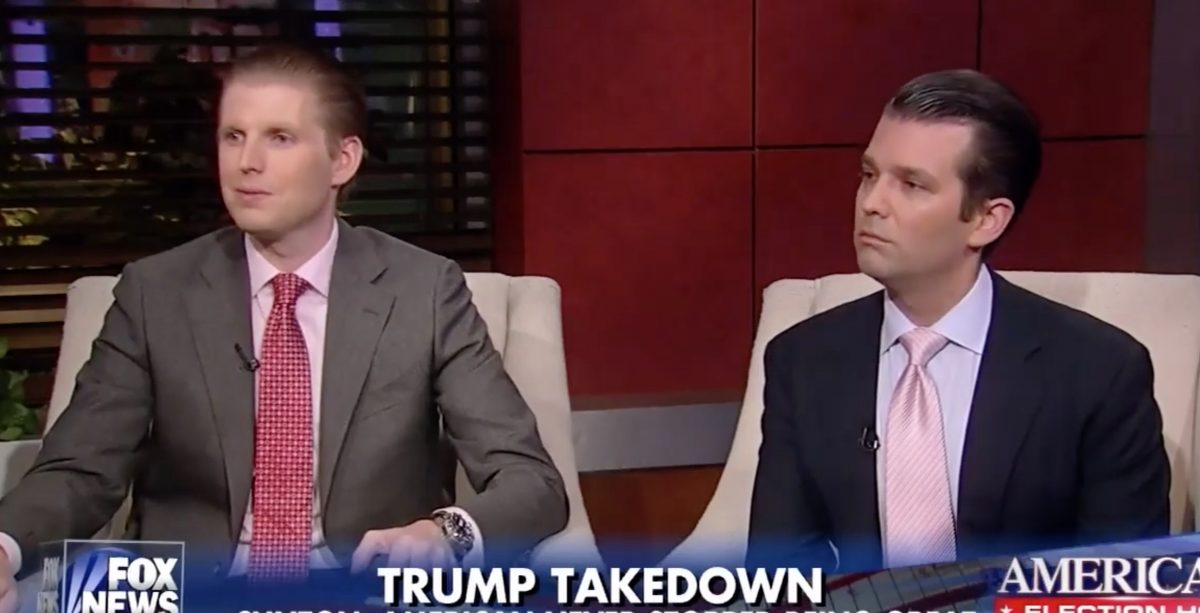 Eric and Donald Trump Jr. are blasting Michael Cohen as they live-tweet their response to his testimony before the House Oversight Committee.
Throughout the hearing, Cohen claimed that President Donald Trump knew Wikileaks was going to release damaging emails for Hillary Clinton and said that his former boss was quite capable of colluding with Russia during the 2016 election. At one point in the hearing, Cohen denied that he turned against Trump out of resentment for not receiving a job in the president's administration.
Trump's sons have noticed this, and they're claiming Cohen is lying about how he wanted to be their father's White House chief of staff:
Nailed it. It really was the biggest joke of the entire transition. The beginning of his bitterness was when he realized that was never going to happen. #Delusional. https://t.co/ddizWugguU

— Donald Trump Jr. (@DonaldJTrumpJr) February 27, 2019
Don Jr. has been more active online than his brother so far, so here's a few of his other choice tweets throughout the hearing:
This sounds like a breakup letter… and I'm keeping your sweatshirt.

— Donald Trump Jr. (@DonaldJTrumpJr) February 27, 2019
Hahahaha Michael Cohen begged to work at the White House and everyone knows it.

— Donald Trump Jr. (@DonaldJTrumpJr) February 27, 2019
Funny how things change when you're trying to save your ass. https://t.co/ti9XxHS4oI

— Donald Trump Jr. (@DonaldJTrumpJr) February 27, 2019
And that's what all this is about. Cohen just wants to be famous. He always wanted his own TV show and the limelight and when he couldn't get it one way he had to try another.

— Donald Trump Jr. (@DonaldJTrumpJr) February 27, 2019
— —
>> Follow Ken Meyer (@KenMeyer91) on Twitter
Have a tip we should know? tips@mediaite.com