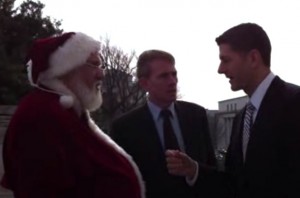 Apparently, Fox News' Jesse Watters isn't the only ambush interviewer who supports President Obama. The Fiscal Cliff Fever™ that has gripped the nation (if cable news is any indication) has also mobilized Jolly Old Elf and small businessman Santa Claus (D-North Pole) into action, and onto the steps of Capitol Hill to agitate for tax fairness. Mr. Kringle, along with a video crew from TheAction.org, accosted former Republican vice-presidential candidate Rep. Paul Ryan to urge him to pass an extension of the Bush middle class tax cuts.
The Senate has already passed a bill that would extend tax cuts for 98% of Americans, and President Obama has repeatedly assured the nation that he carries a pen with which to sign it at all times, but the Republican-controlled House of Representatives has refused to bring the bill to the floor for a vote. Democratic House Minority Leader Nancy Pelosi has introduced a discharge petition to force the bill to a vote, which so far has garnered 182 of the 218 signatures needed to force the vote.
That's where Santa comes in. Along with Catholics United's James Salt, Mr. Claus stopped Rep. Paul Ryan to ask him about the bill. After greeting him with an amusingly casual "Hey, Santa," Rep. Ryan blows Santa off like an Amway salesman:
It's not surprising to learn that Santa Claus is a Democrat, but shouldn't he be threatening Ryan with lumps of Clean Coal™, or maybe stocking-sized solar panels?
Santa Claus is working with TheAction.org, a coalition of progressive groups across the country dedicated to ending the Bush tax cuts for the wealthiest 2%, and extending the middle class tax cuts. To that end, they're urging people to contact members of Congress who have not yet signed the discharge petition. Maybe The Grinch got to them first.
Follow Tommy Christopher (@TommyXtopher) on Twitter.
Have a tip we should know? tips@mediaite.com