Video: World Net Daily Correspondent Les Kinsolving's Latest Birther Question to Robert Gibbs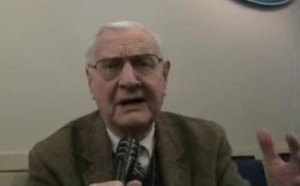 During my latest interview with World Net Daily's Les Kinsolving (publishing later today), he boasted that he is the only reporter to have asked Robert Gibbs about President Obama's birth certificate…twice. At yesterday's White House briefing, Les went for the hat trick, asking a question about Obama's Social Security number, but sprinkling in a reference to the certificate. This coincides with the latest "scoop" to crawl out from under WND, a Hawaii elections official who's making his own bid for Birther fame.
Here's the video of Les' performance yesterday, and Gibb's incredulous response:
Transcript:
MR. GIBBS: Lester.

Q Thank you very much. First sentence. (Laughter.) WorldNetDaily's correspondent Dr. Jerome Corsi reports that in the U.S. District Court of the District of Columbia, a lawsuit has been filed by investigators in Ohio and Colorado concerning the President's Social Security number. Second sentence —

Q Birth certificate —

Q He reports — no, I did not bring up the birth certificate — He reports that investigators Susan Daniels and John Sampson are asking, why the President is using a Social Security numbers reserved for Connecticut applicants. And my question, did you know —

MR. GIBBS: Hold on, that's two sentences, Lester. That — I —

Q That's two sentences, and my question — (laughter) — do you know of any record that the President ever had a mailing address in Connecticut?

MR. GIBBS: Lester, I —

Q That was — I've been asked to ask you.

MR. GIBBS: I know there are faithful readers of your publication that despite —

Q Including you.

MR. GIBBS: Oh, well, I don't know that I would necessarily mark myself down at an avid reader or a faithful reader. I continue to be amazed, Lester, that two years after putting the President's birth certificate on the Internet —

Q Without a hospital and without a doctor —

MR. GIBBS: Do you think the President was born here, Lester?

Q Beg pardon?

MR. GIBBS: Do you think the President was born in the United States?

Q I don't know. I'd love to get the real birth certificate, wouldn't you?

MR. GIBBS: I've seen the real birth certificate. I put it on the Internet and I appreciate your —

Q But you're not answering this question.

MR. GIBBS: I appreciate your forthrightness on the birth answer.
I'd love to ask Les when he became an errand boy for Jerome Corsi, author of, among other things, the Swift Boat Veterans book. It flies in the face of Les' proud independent streak, yet another contradiction from a guy who seems to thrive on them.
As for the Social Security number, I wish he had asked the really important question: Why is no one reporting that the President's Social Security number is the same as the numbers on the hatch from Lost?
It's questions like this that lead people to dismiss Les Kinsolving as a joke, but his long, strange career is actually anything but. Later today, I'll be posting an interview that Les and I did on the subject of Les' biography "Gadfly: The Life and Times of Les Kinsolving," which reveals, among other things, an even stranger "birther" controversy from earlier in his career, andfeaturing some frank talk about his South Africa controversy.
Have a tip we should know? tips@mediaite.com