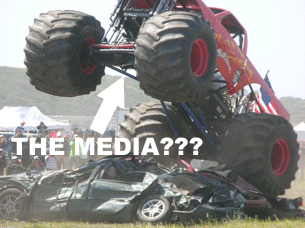 The New York Times reports today that the government is ending the $3 billion Cash For Clunkers program, which allowed consumers to get a cash voucher of up to $4500 when they traded in low-mileage cars for higher mileage cars. According to the Times article, "Although the program has brought on a welcome surge in demand for cars after months of dismal sales, some dealers will be glad to put it behind them because it has been plagued by confusion and processing delays."
The Times, like many other outlets covering Cash for Clunkers, leads off by referring to the program as "popular." The LA Times, the Chicago Tribune, the Philadelphia Inquirer ("wildly popular," in the Inquirer's case), Forbes, and PC Magazine ("ultra-popular") have all done the same. If it was so "popular," then why did more than half of the country oppose it from the start?According to a Rasmussen poll released on August 4th, 54% of Americans opposed any further funding for Cash for Clunkers, compared to "just 33%" who were in favor of continuing it. When Rasmussen conducted a similar poll in June before Cash for Clunkers was signed into law, the numbers were similar: 54% were against the program, and 35% were in favor of it.
Those numbers don't sound like the Random House primary definition of "popular" as "regarded with favor, approval, or affection by people in general." So what does it mean to say that Cash for Clunkers is/was popular? Well, mostly that car buyers liked getting free government money and car dealers liked the sudden surge of buyers. Is this a case of dog biting man? It is a real story in so far as the program was more popular among these groups than was expected, but to call it "popular" without qualification is misleading.
As Mediaite's own Steve Krakauer points out in the context of cable news, media outlets have seemed eager to declare Cash for Clunkers a success or a failure even before the debate. The program's effects are vast and murky, and there is much debate about them among economists. In an LA Times point-counterpoint today, one economist compared the program to breaking windows so we could hire people to fix them, while his adversary said that "[t]he success of this program makes apparent what a "timely, targeted, temporary" stimulus can achieve." Given this murkiness, the media should step back and let the facts speak for themselves and resist the temptations of the prepackaged storyline.
Have a tip we should know? tips@mediaite.com