The New York Times Compares Jon Stewart To Edward R. Murrow Over First Responder's Bill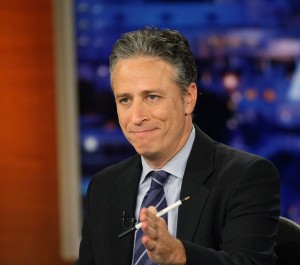 Man, Keith Olbermann is gonna be so jealous. In an incredibly complimentary article in The New York Times, Bill Carter and Brian Stelter compare Jon Stewart to Edward R. Murrow over his passionate work in getting the 9/11 First Responders Bill passed. The piece doesn't soft-sell it either. It's entitled "In 'Daily Show' Role on 9/11 Bill, Echoes of Murrow."
The article holds Stewart's work alongside Murrow's anti-McCarthy broadcasts and Walter Cronkite's famous Vietnam commentary as apparently the only three examples of a journalist directly affecting public policy through the power of their own attention. It then uses quotes from Michael Bloomberg, Brian Williams, and even Robert Gibbs to cement Stewart's influence over the proceedings.
Of course, most interesting is the fact, readily admitted by the writers, that, while some have criticized all the recent praise of Stewart, probably the first to do so would be the man himself. Apparently, he has directed his entire staff not to even comment on the now-famous, relatively joke-free episode dedicated to the bill. Perhaps he's just humble. More likely, he realizes that all the attention will kill the Daily Show's joke. Heroic social crusaders are just less funny. I mean, how many times did you laugh at Good Night and Good Luck?
Of course, with quotes from Kenny Specht, one of the impassioned guests who helped make the First Responders episode so riveting and heartbreaking, saying that he'll "forever be indebted to Jon because of what he did," it might be hard for the "fake newsman" to avoid the praise. How is one supposed to just be funny when genuine heroes are saying things like that? Or Syracuse professors of television like Robert J. Thompson are lending these quotes to the end of a New York Times article:
"'I have to think about how many kids are watching Jon Stewart right now and dreaming of growing up and doing what Jon Stewart does,' Mr. Thompson said. 'Just like kids two generations ago watched Murrow or Cronkite and dreamed of doing that. Some of these ambitious appetites and callings that have brought people into journalism in the past may now manifest themselves in these other arenas, like comedy.'"
It's interesting that, in most of the articles that have been written about Stewart's involvement, Shepard Smith and his actions are rarely (if ever) mentioned. Not that Stewart doesn't deserve the praise. He might just be happy to have someone else to share it.
Of course, both men probably care little about articles like this. They're just happy the bill is passed.
Have a tip we should know? tips@mediaite.com