Former GOP Sen. Danforth Blasts 'Hateful Man' Trump: 'Most Divisive President in Our History'
Former Missouri GOP senator John Danforth slams Donald Trump's "divisive" behavior and calls on Republicans to "disassociate ourselves from Trump."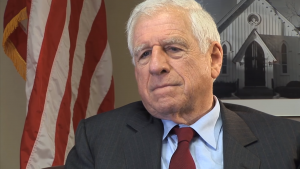 In an op-ed calling President Donald Trump "the most divisive president in our history" and a "hateful man," former Republican senator John Danforth rebuked the president for his rhetoric and leadership — or lack thereof.
The revered statesman's piece for the Washington Post reads:
"Trump is always eager to tell people that they don't belong here, whether it's Mexicans, Muslims, transgender people or another group. His message is, 'You are not one of us,' the opposite of 'e pluribus unum.' And when he has the opportunity to unite Americans, to inspire us, to call out the most hateful among us, the KKK and the neo-Nazis, he refuses."
The former senator was quick to draw a distinction between what others say makes Trump a non-Republican — his anti-establishment rhetoric and non-career politician status — and the divisiveness that he believes makes Trump a non-Republican. Danforth drew on the Republican Party's history of holding the country together during the Civil War as evidence, asserting that Trump's rhetoric is working to poison the party of Abraham Lincoln.
Danforth, an ordained priest who represented Missouri in the Senate for three terms, concluded the article by compelling all fellow Republicans to "disassociate ourselves from Trump," adding "he does not represent what it means to be a Republican."
[image via screengrab]
Have a tip we should know? [email protected]