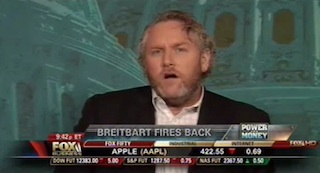 A couple of nights ago, during CNN's New Hampshire coverage, there was an incredibly uncomfortable moment when Piers Morgan asked Andrew Breitbart a question while saying that he was "notoriously evil to people." Breitbart misunderstood Morgan's very British use of the word evil and reacted angrily. It was very tense but, fortunately, Morgan explained the misunderstanding an hour later in an email, the two made up, and Breitbart tweeted that they were "all good." The end.
…until last night when Breitbart went on FBN to talk about the incident.
RELATED: CNN Segment Gets Uncomfortable After Piers Morgan Refers To Andrew Breitbart As 'Notoriously Evil'
"It was strange. I almost didn't think that I heard it right. You know, I think that I have to take these blows. I have to go into the ring with the mainstream media. I'm not your typical pundit or journalist. I don't really go after the politicians to the degree that I, as a person, go after the mainstream media and Hollywood. I go after the cultural left. And so these people take it very personally when I point out their bias and their mistakes. This isn't the first person to ambush me when I've been on a show and the problem is, they don't know me."
Breitbart went on to explain that he was a "goofy, lighthearted guy." He followed that up with his theory that the producers of people like Morgan and Martin Bashir are all plotting to destroy him because he is a threat to old Mainstream Journalism.
Watch the clip from Fox Business Network below:
Have a tip we should know? [email protected]