Ann Coulter On O'Reilly: Every Black American Should Get A Gun, Join The NRA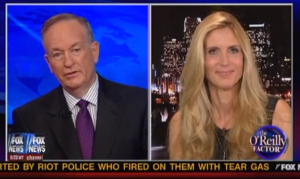 If we hypothetically assume Trayvon Martin was murdered in cold blood, Ann Coulter told Bill O'Reilly on Thursday, then every black person in America should get a gun and join the NRA. Coulter discussed her recent column, entitled "Negroes With Guns" — and argued that gun control is not the solution, because those laws were originally created to keep guns out of the hands of blacks.
The column, Coulter said, was specifically in reaction to the Martin case. She emphasized that she wasn't jumping to conclusions about the case, but noted that many in the media have already decided that George Zimmerman tracked down and murdered Martin. If this were to be true, she said, gun control laws are not the answer.
"Gun control laws were to keep guns out of the hands of blacks," she said. "It was the Republican Party and the NRA that has always supported arming blacks in order to protect themselves from the Democratic Ku Klux Klan."
She pointed to Martin Luther King, Jr. as an example. As a Christian minister under constant death threats, she said, King applied for a gun permit — but he was denied. Because he was black, O'Reilly noted. "People who are for gun control are trying to keep guns out of the hands of the powerless," Coulter said.
Referring again to history, she added:
The one thing all of the discriminators and the KKK sympathizers or KKK themselves had in common was they were all Democrats, and they would use things like gun registration to find out which blacks had guns, so that the KKK could go in and take them away — or sometimes just informers who would be given those guns, or the May issue, which we still have on some books today, where the authorities determine if you are suitable. […] If you are black you are not suitable, if you are white you are suitable.
Take a look, via Fox News:

Have a tip we should know? [email protected]