Ann Coulter To O'Reilly: Putting Rubio On GOP Ticket Would Be 'Pandering To Hispanics'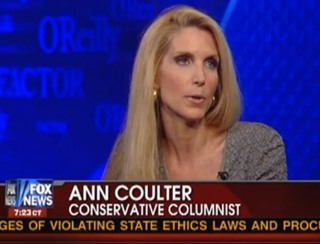 Ann Coulter is not one to toe the party line, no matter how much of a conservative she is, and today on The O'Reilly Factor she proposed to host Bill O'Reilly that Republicans calling for Sen. Marco Rubio to be on the presidential ticket alongside Mitt Romney were "pandering" to Latin Americans and squandering a good chance. Of course, Coulter proposed New Jersey Gov. Chris Christie as a good Vice President, but, more confusingly, she tossed out the name of Republican Sen. Jon Kyl.

RELATED: Fox News Poll: Latinos Care More About Economy Than Immigration, Backing Obama And Romney
"He should keep doing what he's doing and maybe run in a few years," Coulter said of Sen. Rubio, who she said she liked but found a strategic mistake. "I don't think Romney needs Rubio to win Florida," she argued, and additionally, "he's very young, and also when you run as a Republican for President or Vice President, the non-Fox media is going to go after you like gangbusters and it's good to have somebody who is tested." O'Reilly did not agree, given that the Latin American vote was crucial to victory. "I don't think there is a groundswell of Hispanic American support for Romney," O'Reilly argued, predicting that the senator would get the call, and that he is proposing immigration legislation in the Senate now helps. "If we're only picking Rubio because he's Hispanic… that's pandering," Coulter countered.
Instead of Rubio, Coulter suggested (of course) Gov. Christie, the other name on most people's short list, and Arizona Senator Jon Kyl, which O'Reilly raised an eyebrow at. Coulter compared the choice to former Vice President Dick Cheney, even though O'Reilly objected that choice would bring in no votes at all. "He's not scary when he goes on television!" she added. O'Reilly didn't seem convinced, though reacted more warmly towards the idea of Gov. Christie.
"I don't think we should be pandering and I don't think we should go for inexperience," she concluded.
The segment via Fox News below:

Have a tip we should know? tips@mediaite.com