As Major Companies Plan Blackout Protest, Where Has The Mainstream Media Been On Coverage Of SOPA?
Where Has The Mainstream Media Been On Coverage Of SOPA?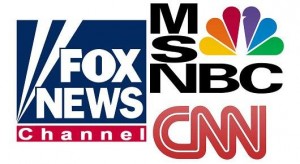 Congress is set to return later this month, and one of the most hotly contested pieces of legislation it will be facing is the Stop Online Piracy Act. The bill was authored by Republican Lamar Smith, and has received bipartisan support and opposition in the House. There has been a lot of talk about internet- and technology-based companies that support the bill, including GoDaddy (up until recently) and the video game industry.
But what about the giant media conglomerates? Well, we know where they stand. OpenCongress lists all the big companies that support the bill, including the following:
NBC Universal
Comcast
News Corporation
Time Warner
Disney
CBS Corporation
Et cetera. The list goes on. But what's particularly notable about these companies is that they own news organizations. And with SOPA being the big story that it is, one would expect news organizations to start picking up on it. And to a certain extent, you could say they have.
A CNN.com search for SOPA reveals the site has run two stories about the bill, and the bill is mentioned in a third one titled "Doh! The top 10 tech 'fails' of 2011." But in none of these stories is it disclosed that Time Warner, parent company of CNN, supports the legislation. MSNBC.com covered the bill in a November article, which did not disclose its parent companies' support of the bill. FoxNews.com features more coverage of the bill than its two rivals, and in one article it does mention News Corporation's support of SOPA.
Now, it's quite possible the authors of these articles were not aware they had any such disclosure to make. But all the media companies listed above attached their names to a letter sent to members of Congress in September, urging them to pass the SOPA bill into law. And what about the on-air presence on these networks? Surely this important piece of legislation must have warranted at least one story on the nightly news.
Well, apparently not, because according to a study conducted by Media Matters, there has been a virtual media blackout on the airwaves over the past few months in regards to SOPA. The study used LexisNexis figures to calculate just how many times the bill has been reported in the primetime hours on CNN, MSNBC, Fox News, ABC, CBS, and NBC. None of these networks gave any nightly news coverage to the bill, with the exception of CNN, where it was brought up briefly during a segment on The Situation Room. Media Matters notes the study does not, however, take into account these networks' daytime programming, nor is Shepard Smith's nightly broadcast factored in.
RELATED: I Can't Haz SOPA? GoDaddy.com Withdraws Support Of Online Piracy Bill After Threats Of Boycott
A quick perusal of statistics from the website TVeyes also finds that in the past week, the biggest networks to give any mention to SOPA were Bloomberg and CSPAN. In fact, the co-founder of Reddit (a website that has quickly mobilized SOPA opposition) was interviewed on Bloomberg just a few days ago. But still, the major news networks are silent on the issue.
And before you start crying foul that this is a Media Matters study, keep in mind that SOPA not only has bipartisan support, but bipartisan opposition. In fact, RedState's Erick Erickson proposed a bipartisan coalition to take out any member of Congress who supports the bill. As Erickson succinctly put it:
This battle is so important — and is one of those rare fights where the left and right are united against Congress — that I suggest the left and right unite and pledge to defeat in primaries every person named as a sponsor on H.R. 3261, the Stop Online Piracy Act.
Normally, this is the kind of legislation that might rile up Rachel Maddow or Bill O'Reilly, so why is there such a deafening silence on this issue that both liberals and conservatives have found common ground in hating?
There are one of two possibilities at play here. Either the network brass is pressuring the news division to not cover the legislation at all (the more conspiratorial point of view), or news anchors are simply avoiding their stories so as not to put their jobs on the line. Some will argue that, perhaps, news anchors are avoiding the story because there is so much more on their platter– why spend an entire segment explaining the serious consequences of a convoluted bill when you have a ten-second soundbite of Rick Santorum maybe saying the work "black"? Whether the possibility exists or not, it does not exonerate reporters from their responsibility to report. And so, of the first two, the latter seems to be the more realistic one. As Eric Boehlert explained to The Register on Media Matters' findings:
"I don't think there's been a top-down edict on this, but the data is interesting… People are smart when it comes to their careers, and may feel that raising the story isn't a good way to get along with their parent companies."
Fox News' lack of coverage is particularly remarkable, because last week Rupert Murdoch personally came to Capitol Hill last week to lobby members of Congress to pass SOPA and its Senate counterpart, PIPA. One might then, logically, expect Fox News to cover SOPA with the best positive spin since, as its critics say, the network gets its marching orders and sticks to it. But what we're witnessing here is complete silence on the issue. I suspect the networks are smart enough to understand that no matter how much you try to put a smiley face on it, alarm bells go off in people's heads when they hear the phrase "regulate the internet."
Luckily for those of us who care about media dissemination of critical information, several big websites are considering a one-day complete blackout to raise awareness about the bill so more people can be informed about it. Now, you might be asking yourself, "Well, what are the chances a few websites are going to make a big impact on public opinion?" Actually, quite large. Here are the companies on board for a possible blackout:
Google
Facebook
Twitter
Wikipedia
PayPal
Zynga (creators of Farmville, Mafia Wars, etc.)
eBay
LinkedIn
IAC, which owns these websites:

Dictionary.com
Ask.com
Dictionary.com
Match.com
CollegeHumor
Dorkly
Dictionary.com
Vimeo
If all those sites were taken away from people for a 24-hour period, you'd better believe there will be riots in the streets to stop SOPA from passing.
But I'd bet that if the mainstream media had been doing their jobs on this from day one, there would be zero talk of a blackout. Earlier today, I wrote about Rick Santorum's comments on the SOPA bill and online piracy. The YouTube video of Santorum was posted two days ago. A Google News search shows Santorum's remarks were picked up by only two websites: NewsOK.com, which only mentioned SOPA in passing, and Death & Taxes, which uses over half the article to connect the story somehow to Santorum's Google problem.
RELATED: Rep. Paul Ryan Becomes Latest Target Of Anti-SOPA Activists, Democratic Opponent Gets Fundraising Boost
Media organizations no longer have the luxury of pretending certain stories don't exist. More and more people get their news via online news sources, and avoiding a story because the people that own you wouldn't like it gets noticed these days. Absence makes the heart grow more pissed off, basically. These people in the media who gladly embrace controversy on a regular basis (hell, Lawrence O'Donnell hasn't had a problem with ruffling a few executive feathers before) need to explain why they're staying so silent on this issue. There's nothing wrong with having an honest debate on a topic like this.
But then, perhaps you have better things to do, like insulting people you disagree with and laughing at viral videos of confused animals. You know, news.
Have a tip we should know? tips@mediaite.com
Josh Feldman - Senior Editor