Bill Maher And Conan O'Brien Imagine Obama In Short-Shorts, Gang Leader Romney
Maher And Conan O'Brien Imagine Obama In Short-Shorts, Gang Leader Romney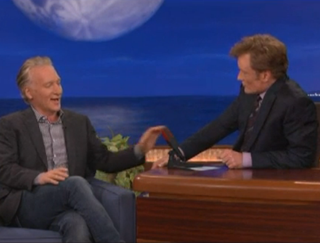 Conan O'Brien must have been fairly happy last night that he had the freedom TBS gives, because Bill Maher certainly made the most of it. Joking that coming to the show "felt like a real job" because he had to wake up before 2 PM to make it, Maher somehow ran the gamut from gay marriage to President Obama in short-shorts to bullying and child molestation. It was a fairly packed interview.

RELATED: Maher: If Biden's Gaffe Forced Obama's Hand On Gay Marriage, 'Biden Must Make More Gaffes'
It took about four words into the interview for Maher to drop the phrase "ejaculate in a vagina" in relation to Mitt Romney (unnecessary, but arguably relevant to gay marriage?), followed by "It's two in the afternoon! We can be adults, can we?" O'Brien and Maher then tried to figure out just what Newsweek was on about when calling President Obama the "first gay president." Maher understood how Clinton was the "first black president": "he played saxophone… ate McDonald's," but with President Obama, he asked, "what does he do that's gay?" The image of the President as a "gay angel" also didn't do it for Maher: "why not just short-shorts and a penis-shaped lollipop?"
Maher then went on a bit of a rant about Mormonism after calling the claim that marriage is a "cornerstone of our civilization" a "rectum-derived statistic" ("that's a very specific kind of think tank," offered Andy Richter), stopping himself to add that "you know how I feel about religion– it's all batshit," but that Mormonism was "so stupid that Tom Cruise would not join it and Glenn Beck did." The crowd reacted coolly to some jokes ("You know how it's Mormon dogma? It's strapped to the roof of the car"), with a reception O'Brien called "cheerful booing," diffused as O'Brien explained that, as a Catholic, he was taught that "you eat a cookie and turn into Jesus." Maher helpfully offered that this was not the way Transubstantiation works.
In the second half of the interview, the two discussed the bullying accusations against Romney, which Maher began to describe as Romney "leading this gang" before O'Brien cracked up imaging Romney as a gang leader. Maher also argued that he didn't see the social issues to be particularly important, as the economy was considered the top issue in the election cycle until it "started getting better and Republicans went to Plan B: calling women 'whores.'"
The interview via TBS below:

Have a tip we should know? tips@mediaite.com