Bill Maher And Panel Go After CPAC For Rejecting Chris Christie In Favor Of Gingrich And Palin
Maher And Panel Go After CPAC For Rejecting Christie In Favor Of Gingrich And Palin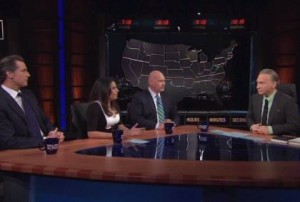 Bill Maher tonight took on the upcoming Conservative Political Action Conference that panelist Steve Schmidt has previously likened to the bar scene in Star Wars. Maher pointed out that CPAC this year is supposedly about the future of the Republican party, but he asked if that's the case, why did they invite figures of the past like Newt Gingrich, Rick Perry, and Sarah Palin, while not inviting the widely popular Chris Christie.
Maher asked Schmidt about Christie not being invited despite the theme being "America's future."
RELATED: Maher To Panel: GOP Didn't Suddenly Go 'Off The Rails,' Always Been Weird Mix Of 'Jesus Freaks' And 'Plutocrats'
"I'm reading their website, 'the next generation of conservatives,' and they invite Newt Gingrich, Sarah Palin, Mitt Romney, Rick Santorum, Rick Perry. That's the next generation?"
Schmidt said Christie is "the most popular governor in the country," to which Maher asked, "Do they have a death wish?" Schmidt said that Christie could potentially change the electoral map for Republicans, saying that the GOP cannot survive as a national party if it stays so obsessed with party purity.
California lieutenant governor Gavin Newsom credited Schmidt with signing his name to an amicus brief supporting gay marriage, arguing that President Obama's record makes him look like some big conservative. Monica Mehta argued that the more the GOP obsesses over keeping their base happy, the less interested they are in compromise. She said that Christie may not be physically attractive, but he attracts people with his tough-guy attitude.
Watch the video below, courtesy of HBO:
—–
Follow Josh Feldman on Twitter: @feldmaniac
Have a tip we should know? tips@mediaite.com
Josh Feldman - Senior Editor