Bill Maher: Putting God On Our Money Is 'Redundant' Because 'Our God Is Money'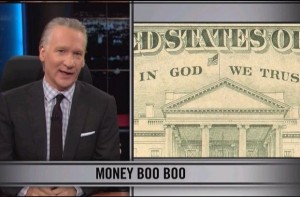 Bill Maher used his final New Rule tonight to address the issue of God on U.S. currency. Speaking as "America's favorite celebrity atheist," Maher argued that while it's not really a big deal, it seems silly to put the name of a deity on money. Maher was spurred by Mitt Romney coming out strongly against efforts to remove God from U.S. money. Maher mocked Romney for feeling the need to make such a claim when, at present, there are no serious attempts to get God off the money.
RELATED: Fiscally Conservative? GOP Pushes Bill To Put 'In God We Trust' On All Federal Buildings
Maher first addressed the mild controversy last week over the Democrats initially leaving God out of their party platform, which Maher agreed with because "it's a platform… not a spell." Of course, Fox News was quick to jump on the story, and they, as Maher phrased it, "pretended Christianity was under attack to get old people hard." Maher said it was ridiculous for Republicans to get so worked up over the issue.
He then turned to Romney's pledge that he would make sure God remains on U.S. currency. Maher credited Romney for "taking a bold and unwavering stand against something no one has ever asked anyone to do." He also noticed that Romney made those remarks next to Pat Robertson, which Maher deemed as fitting, because who else would be as qualified on "the connection between God and money"?
But as for the overall principle of putting God's name on money, Maher found it odd considering that this is the same God who sent down his son to "beat up the money-lenders." He said that putting God's name on money is "redundant" because our God is money, arguing that the United States practically worships money.
"Worshipping money is how we let things like our wars and our prisons and our health care turn into for-profit business endeavors. Is the war on drugs never going to end? Shit no. Because it's making billions for the private prison, alcohol, and prescription drug industries."
Watch the video below, courtesy of HBO:
—–
Follow Josh Feldman on Twitter: @feldmaniac
Have a tip we should know? tips@mediaite.com
Josh Feldman - Senior Editor