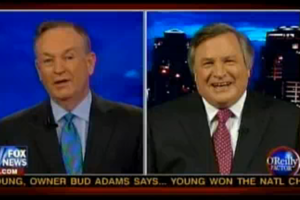 Today rang in a new era in Washington as the Republican majority settled into their places in the House of Representatives and their leader, House Speaker John Boehner, took the gavel away from outgoing Nancy Pelosi. With questions flying about what this takeover (and Boehner's leadership) would mean for Congress, tonight Bill O'Reilly opened his first discussion with a different concern about Speaker Boehner: the "crying thing," and what it would mean for his leadership.
Seems that even as the Speaker of the House, his crying will continue to be a hot topic in the media. "I don't really know him very well," O'Reilly told strategist and first guest Dick Morris, "[but] the crying thing, is that, what do you think?" Morris laughed it off, quipping, "I got my crying out of the way as Obama was passing all these programs!" But O'Reilly insisted, asking once again whether the fact that "he cries a lot" matters, adding the caveat that he does feel Speaker Boehner is "genuine in his emotion."
"The third time is a little too much," admitted Morris, adding that there is a way to "teach someone how not to cry" and that there are "speaking gimmicks" he could use to keep it under control. Whatever the gimmicks, it appears Speaker Boehner did not use them while he was being sworn in today, as O'Reilly played a clip of Boehner hiding his face in a bundle of tissues while outgoing speaker Pelosi welcomed him in.
The segment via Fox News below:

Have a tip we should know? tips@mediaite.com