Howard Kurtz Confronts Writer & Director Of Game Change About Film's Accuracy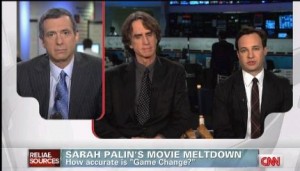 On Reliable Sources today, Howard Kurtz spoke to Jay Roach and Danny Strong, the director and writer of the HBO movie Game Change, and took them to task over the accuracy of the film. Since it's a movie, obviously the film took some creative license with the story of the 2008 John McCain–Sarah Palin presidential campaign, but Kurtz challenged several of the scenes in the film and asked the filmmakers just how they were able to create dialogue for certain moments.
RELATED: Palin Reacts To HBO Movie About 2008 Campaign: 'Based On A False Narrative'
Kurtz asked Roach exactly how much of the film was the result of creative brainstorming. Roach said obviously when trying to condense a very long story down to two hours, some narrative points have to be changed around, but insisted the entire film was based around the factual information detailed in the book by Mark Halperin and John Heilemann. Strong added that he conducted over two dozen interviews with people involved in the McCain campaign in order to portray a fair picture of how events unfolded, and said that he was able to talk to almost every person in the campaign who is portrayed in the film, with the exception of the two candidates and McCain staffer Mark Salter.
One of the scenes in the film Kurtz thought took some liberties was when Steve Schmidt is confronted at the 2008 Republican National Convention by a mob of reporters asking him about every little controversy surrounding Palin. Kurtz recalled his own experience covering the campaign and said the mob never happened. Strong said it definitely happened, just at different times during the convention, and they just meshed it all together into one big scene to make it look more dramatic.
Kurtz asked the two men about scenes where all the dialogue is between members of the Palin family, and how they could have fairly written those scenes if none of the Palins talked to them. Strong cited interviews he did with members of the campaign, as well as details they gleaned from Palin's autobiography Going Rogue. Kurtz brought up a Palin spokeswoman's comments about how the movie is "sick." Roach said he doesn't think she actually saw the movie before criticizing it anyway, while Strong said he made sure to corroborate all of the stories about the campaign with several other people before going ahead.
RELATED: McCain 2008 Advisor Nicolle Wallace Says Game Change Was 'True Enough To Make Me Squirm'
Kurtz tried to suggest that Steve Schmidt and Nicolle Wallace, two former top McCain advisors and consultants on the film, were trying to push a false narrative about the campaign as a sort of vengeance plot, but both men still insisted that what they said was backed up by others who worked on the campaign.
Watch the interview below, courtesy of CNN:
Have a tip we should know? tips@mediaite.com
Josh Feldman - Senior Editor