Coulter Urges GOP to Go on Offense: Democrats Have 'Only Confirmed Kill' in War on Women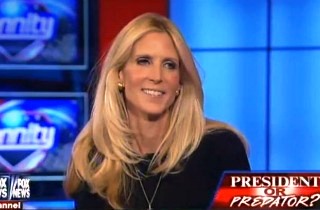 Conservative columnist Ann Coulter appeared on Fox News Channel on Monday night where she praised some Republican officeholders for going on the "offense" when charged by Democrats and media personalities of attacking the interests of women. She urged Republican office holders and prospective candidates to highlight the controversies that Democratic politicians have dealt with which involve women.

"As I'm constantly telling Republicans, please go on the offense and stop playing defense," Coulter said of Sen. Rand Paul (R-KY) reintroducing Monica Lewinsky into the national debate. "Instead of trying to defend yourselves from not wanting to turn over the United States Treasury to giving women free contraception, how about pointing out the wonderful relations Democrats have with women."
She cited a number of Democratic elected officials who have been embroiled in controversies relating to female associates. "Teddy Kennedy was the only confirmed kill in the war on women," she said. "But we're supposed to be ones' who are anti-women."
RELATED: Ann Coulter: Fox & Friends MSNBC Won't 'Put on Conservatives Who Can Put Two Sentences Together'
Coulter said that no one would vote for Obama because they saw actress Lena Dunham, who Coulter called "fat girl who is always taking her clothes off on HBO," talking about the first time she voted for president and equating it to losing her virginity.
"Point out what swine these Democrats are," she advised Republican office seekers.
Sean Hannity added to the conversation the series of women who have accused Bill Clinton of impropriety. "Among the many lies that we are constantly told by the media is how popular Bill Clinton is," Coulter agreed. "He couldn't even get his vice president elected."
Watch the clip below via Fox News Channel:
[Photo via screen grab ]
— —
> >Follow Noah Rothman (@NoahCRothman) on Twitter
Have a tip we should know? tips@mediaite.com