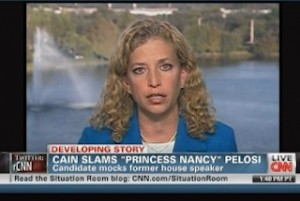 Cable news programs over the last two weeks have pretty much been filled with the sordid accusations and strong denials surrounding Herman Cain's alleged sexual harassment story. The Cain campaign initially handled the sordid affair in a pretty bungled manner, though the increased television airtime proved to be something of a publicity boon to the campaign, bolstering both record donations and his place near the top of the polls.
But Cain himself said it was time to move on, to "dial it back," to "stay on message," despite the scandal's Red Kryptonite-esque effect on his strength with his base of supporters.
Luckily, DNC chair Rep. Debbie Wasserman Schultz (D-FL) isn't quite so ready to move on. Asked this afternoon for her reaction to Herman Cain's "Princess Nancy" comment at Wednesday night's debate, Wasserman-Schultz dug into Cain, and the rest of the Republican field, with relish.
"I thought it was a pretty sexist throwaway line," she said of Cain's quip, "that demonstrates one more example of how deficient the entire Republican presidential field is. You have Mitt Romney who flip flops on any issue based on what popular opinion on. Herman Cain who has serious allegations by four different women and continues to make comments like the one he made at the debate the other night. You have a guy in Rick Perry who didn't have enough conviction to remember his own agenda."
Asked about those allegations, Wasserman-Schultz said, "I think Herman Cain needs to come clean and address them and say far more than he's said already."
She did not, however, promise to hold her breath.
Here's the clip, from CNN:
Have a tip we should know? tips@mediaite.com