Don Imus To Neil Cavuto On Newt Gingrich: 'He Gets More Action Than Charlie Sheen!'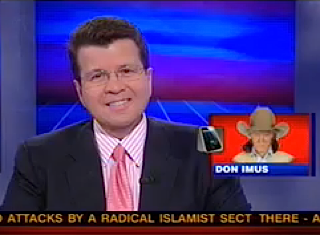 Today is the South Carolina Republican primary, which means Neil Cavuto will be manning the ship at Fox News for most of the day. As usual when such events happen, Don Imus stops by to give his piece, which usually somehow becomes a conversation about how much Imus would rather not be talking to Cavuto. This was no different! Except for Imus's take on Newt Gingrich, who he compared to early 2011 meme Charlie Sheen.
RELATED: Don Imus Insults Anyone Who Cares About The Debt Crisis In Surreal Chat With Neil Cavuto
Cavuto first asked Imus for his take on the debate on Thursday, and he noted that he was not particularly happy with Mitt Romney's performance. "If this was your first exposure to these people, you'd vote for Gingrich. He had an answer for everything!" Imus noted, adding that he believed that Romney's answers on the tax return issue were insufficient. Cavuto asked Imus to clarify whether he though Gingrich was "taking advantage on the big, in-your-face issues," to which Imus simply answered that Romney "didn't answer questions" before musing, "who would've known that the headline coming out of all this is that many women wanted to sleep with Newt Gingrich?!" He ignored some protest noises from Cavuto, continuing, "He's getting more action than Charlie Sheen!"
Cavuto then steered the conversation away from Newt Gingrich having more sex than Charlie Sheen to more pleasant imagery: President Obama singing "Let's Stay Together." "You think that appeals to one segment of the population– that appeals to everybody," Imus noted, comparing it to Bill Clinton playing saxophone with Arsenio Hall. Cavuto poked at Imus claiming he sounded a little less in Romney's corner now than in the past, which made Imus note, "I'm feeling that you're not all that happy to have me on." "I'm happy to have you!" Cavuto replied, "but you do have an attitude." Imus did argue that if Romney "can't handle Newt Gingrich, he won't be able to handle Barack Obama."
As with most Cavuto/Imus conversations, this one ended with Cavuto reminding Imus to come back on the air with him later in the evening, and Imus complaining that "people don't realize you make me appear" on the show, jokingly claiming he never gets a say in these things.
The clip via Fox News below:

Have a tip we should know? tips@mediaite.com