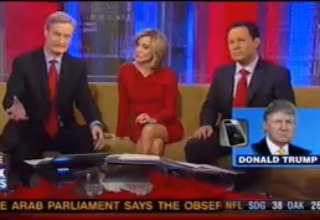 Newly "unaffiliated" mogul and reality television star Donald Trump called in to Fox and Friends Monday morning to discuss his plans for a third party run, taking some time to weigh in on a recent move by Texas-based activists to create a "Make America Great Again" party.
RELATED: Report: Donald Trump Officially Switches Party From Republican To 'Unaffiliated'
Trump shared that he likes the idea of making America "great again," adding later than the current GOP field reflects a certain "madness:"
I think when somebody like Ron Paul gets such a large percentage of the vote potentially, I look at the polls, and I think it's absolutely madness to even think about it. I just see the candidates go up and down. It's like yo-yos, they go up and down, they're gone, they're forever forgotten, then they re-emerge. Now what's going on is very strange. I don't think I've seen anything like it and I've been following politics for a long time.
That said, he "likes Rick Santorum," who is a "nice guy."
He made it clear that, when it comes to running himself, "I do have my ducks in line if I want to do it, but I'd love to see the Republicans pick somebody that was going to win and take over this country and frankly, to use the expression, make America great again." For those who don't speak Trumpese, allow me to offer a quick translation: "I'm gonna string any voters still potentially interested in me along as much as I can for as long as I can continue to garner attention and publicity."
Yay!
Watch below via Fox News:
Have a look at the interview, from Fox News:
Have a tip we should know? tips@mediaite.com