Fox Contributor Scolds O'Reilly For Asking Whether Colin Powell Cuts Obama 'Slack' For Being Black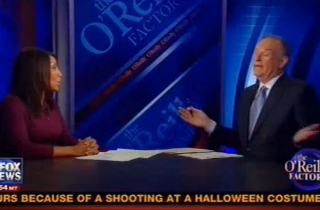 During a discussion last night with black Fox contributor Arthel Neville, Bill O'Reilly asked whether former Secretary of State Colin Powell's recent endorsement of President Obama was the four-star general "cutting him a little more slack" for being black like him.
"General Powell has been, in his books, quite candid about him using affirmative action to succeed," O'Reilly told Neville. "And Barack Obama did use affirmative action to, you know, be educated and something like that. Do you think that there's any racial business here?"
Neville quickly pushed back on the notion, repeatedly saying: "No. No. No. No."
"I'm not saying that in a pejorative," O'Reilly defended himself. "But a connection — the general and the president came up the same way."
"No, because that means that if Mike Huckabee supports you, is there racism? Absolutely not," Neville said.
"I didn't say racism," replied O'Reilly, "I said racial connection because there's an identifiable path."
Neville then scolded O'Reilly for pushing the idea:
I understand what you are trying to say there, Bill. I think it's disrespectful. It's disrespectful to General Powell. It's disrespectful to the president. You cannot take — especially Colin Powell — you can't take such a pedigree and dilute it to pigmentation.
"You don't think shared experience enters into General Powell's endorsement?" O'Reilly pushed back, with Neville countering that it is "absolutely not true" that if President Obama had done a bad job, Powell would support him regardless.
"No, I'm saying that he might be cutting him a little more slack," said the Fox host.
"I disagree with you," Neville concluded. "You can try to paint it any way you want to but I disagree with you."
"Just a provocative question," O'Reilly said with a smirk, "which is what I do here."
Watch below, via Fox News:

[h/t
ThinkProgress
]
— —
>>
Follow Andrew Kirell (@AndrewKirell) on Twitter
Have a tip we should know? tips@mediaite.com