Fox & Friends To Laura Ingraham: Is The Press Turning On Obama Over Botched Sequester Campaign?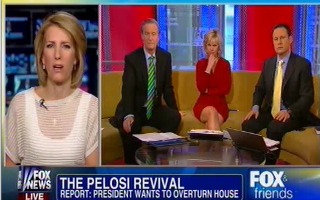 The hosts of Fox & Friends asked if the press, concerned over President Barack Obama's overreaching campaign against the sequester cuts and Congressional Republicans, is beginning to turn on the president. They cited some veteran newsmen who have come out publically and chided the president for seeking to demonize his opponents rather than work behind the scenes to avert potentially problematic federal budget cuts.

RELATED: Tom Brokaw Pounds Obama For Spending 'Entirely Too Much Time' Campaigning, Not Negotiating With GOP
Brian Kilmeade said he was shocked to learn that Obama is raising money with the aim of retaking the House for Democrats and making Rep. Nancy Pelosi (D-CA) Speaker again. "He's going to be spending, campaigning, raising money to the tune of $50 million," Kilmeade said.
"What the American taxpayer should understand, whether you're a Republican or a Democrat, what you're paying for is not really serious governance," Ingraham said. "What you're paying for is a perpetual campaign."
She said that the nation has been waiting to see when president Obama would opt to govern instead of berate his opponents, but that time never came even after three federal elections had passed.
Gretchen Carlson identified a pattern, however, of members beginning to criticize the president – including the New York Times' Bill Keller and former NBC News anchor Tom Brokaw. Both have said that Obama should not have opted to campaign against Republicans in Congress and instead sit down with them in private in order to reach a compromise and avert the sequester.
"At some point, the overreach does happen," Ingraham observed. "Obama is not invincible." She warned that Democrats preparing to run for the presidency in 2016 will have to defend Obama's record and they will be wary of backing a president with a less-than-stellar record in office.
Watch the clip below via Fox News Channel:
> >Follow Noah Rothman (@NoahCRothman) on Twitter
Have a tip we should know? tips@mediaite.com