Fox News Trolls 'Disaster' DeSantis Launch on Twitter — After Analysts Crowned Musk the New Murdoch
Fox News ridiculed Ron DeSantis' chaotic Twitter-based 2024 presidential campaign launch on Wednesday after analysts suggested that Elon Musk's social network could be the new Fox News.
Following DeSantis' Twitter Spaces event — which was plagued with technical difficulties, prohibiting many people from listening in to the Florida governor's presidential campaign launch — FoxNews.com led with the tag, "AMATEUR HOUR" and the headline, "Much-hyped presidential announcement a disaster for Twitter due to tech issues."
Fox News then rubbed it in with the breaking news notification, "PROGRAMMING ALERT: Want to actually see and hear Ron DeSantis? Tune into Fox News at 8 p.m. ET."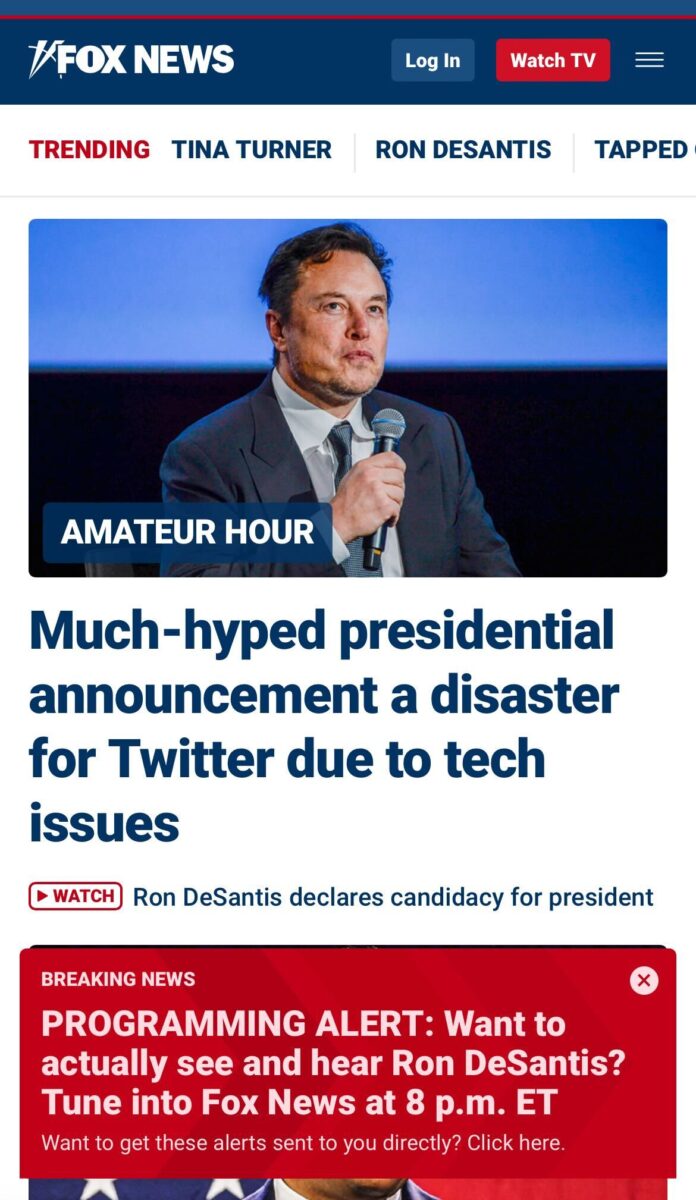 Fox News Trey Gowdy also took a jab at Twitter during his interview with DeSantis following the Twitter Spaces event.
"I can't promise you that I won't crash, but Fox News will not crash during this interview," Gowdy joked.
Ousted Fox News host Tucker Carlson announced this month that he would move his show to Twitter after the views on one of his videos on the platform wildly surpassed the viewers of his previous 8 pm Fox News time slot.
The announcement — along with Musk's attempts to move Twitter more toward video — prompted some analysts to predict that the social network could become the new Fox News.
On Wednesday — ahead of DeSantis' Twitter event and in the wake of the news that Ben Shapiro's Daily Wire would also start publishing its podcasts to Twitter — Axios claimed that Musk had "displaced Rupert Murdoch and Fox News as the king of conservative media in recent weeks."
Others made similar claims, with Business Insider arguing that Twitter was "starting to morph into a version of Fox News."
However, the poor technical performance of DeSantis' live event on Wednesday suggested that the platform may not be capable of replacing cable news just yet.
DeSantis' Twitter Space, which reached more than 500,000 viewers at its peak, crashed and glitched out with just a few hundred thousand users listening in — a far cry from the millions of viewers who tune into Fox News and MSNBC on a daily basis with, for the most part, very little issue.
Twitter's inability to host the live event without problems, as well as DeSantis' decision to entrust his launch to a platform that isn't exactly known for its live video capabilities, resulted in ridicule from both President Joe Biden and former President Donald Trump. It also led to the hashtag '#DeSaster' becoming one of the top trending topics on Musk's social network.
Have a tip we should know? tips@mediaite.com