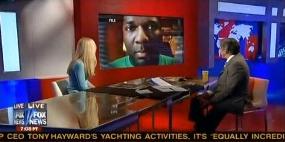 As the Alvin Greene mystery continues, there are no signs the Democratic South Carolina Senate nominee will be leaving our political and media lives any time soon.
Geraldo Rivera got his shot at interviewing Greene this week – and the results, and subsequent analysis, furthered the odd story.
It's a little strange to see the "exclusive" tag used for the interview, considering we've seen Greene tangle with FNC's Shepard Smith, CNN's Don Lemon, MSNBC's Keith Olbermann and Time Magazine, at least. But the phone interview was called "exclusive," and consisted mainly of Greene using the word "issues" more than two dozen times.
What Greene was not willing to talk about was that felony porn charge, even as Rivera promised a "sympathetic ear." (Side note: why?) "How do you not respond when someone says you're a pornographer or this or that?" asked Geraldo. "Those things are ridiculous," said Greene.
After the interview, Geraldo hosted a panel that included Ann Coulter and Vic Rawl's (the guy who lost to Greene) campaign manager, Walter Ludwig, to recap and essentially bash all things Greene. "He's so bad," said Geraldo. "I mean, I almost feel sorry for him."
Presumably, there are some advisers now in charge of the decisions Greene makes (at the very least, we know there is that lawyer who is handling the felony situation). Maybe it's time someone tell Alvin to keep quiet for a while – if this is really happening, he's got some time to practice before he meets the press, or, say, debates Sen. Jim DeMint, before November.
Check it out:


—–
» Follow Steve Krakauer on Twitter
Have a tip we should know? tips@mediaite.com