Geraldo On 'Major Deception' In Benghazi: Was Mitt Romney Told By CIA's David Petraeus To Back Off?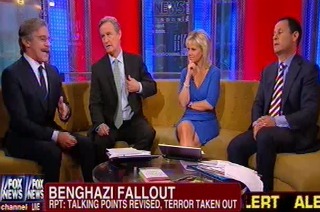 On Friday's Fox & Friends, Geraldo Rivera dove into the news that the intelligence community's assessment of the reasons behind the attack on an American consulate in Benghazi was "scrubbed" of references to Islamic terrorism. Rivera said that, while he did not believe this was an impeachable offense, he was sure this "major deception" was likely to hinder former Sec. of State Hillary Clinton's presidential aspirations. Rivera added that former GOP presidential nominee Mitt Romney may have been told to back off claims of a cover-up in Benghazi for national security reasons by Former CIA Director David Petraeus.

"I think the biggest vulnerability to the Obama administration — indeed, to the president himself — comes from the cover-up," Rivera said. "If, indeed, as these papers suggest very strongly, there was an intent to take a terrorist attack and morph it into something much more benign and spontaneous, then I believe that this is something that goes to the very heart of the integrity of the office."
"This is a major, major deception," Rivera added.
RELATED: ABC News Reports Benghazi Talking Points Were Revised 12 Times, Terror Reference Was Omitted
He said that impeachment should be a last resort, and he does not favor impeaching President Barack Obama over this scandal, but he said that this scandal would affect "in a meaningful way" Clinton's presidential aspirations in 2016.
Rivera said that the fact that there were questions about whether American military assets could have responded but did not would be a "stain on our consciousness whenever we think about Benghazi forever."
"What was David Petraeus doing allowing those changes to be made in a CIA document and then briefing the press off the record that we really think the video had something to do with it?" asked Brian Kilmeade.
"Why didn't Mitt Romney say exactly what you just said during that third, crucial debate? He could have won the presidency," Rivera asked. He said that his sources have told him that the CIA was preparing a sensitive mission to round up weapons in that country and Romney may have been told to tread softly on Benghazi for national security reasons.
"Was he briefed by David Petraeus and the CIA to suggest that there was a secret mission there that we can't go there, we can't talk about it?"
"You're saying David Petraeus lied to us to stay off the beaten trail there?" Kilmeade pressed.
"I'm not saying he lied. I think that he said he may be exaggerated," Rivera replied.
Watch the clip below via Fox News Channel:
> >Follow Noah Rothman (@NoahCRothman) on Twitter
Have a tip we should know? tips@mediaite.com