Glenn Beck: The Tea Party Supporting Gingrich Over Obama 'Must Be About Race'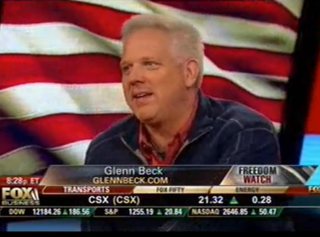 Glenn Beck has made no secret of how much he dislikes Newt Gingrich— not even to Newt Gingrich's face. But he has yet to confront his supporters until last night, when he reasoned to Freedom Watch host Judge Andrew Napolitano that there was very little difference between Gingrich and President Barack Obama— so much so that the only possible explanation for Tea Partiers rallying around Gingrich is "Obama's race."
RELATED: Glenn Beck Confronts Newt Gingrich, A Candidate With Whom He Has 'Serious Concerns'
Describing Gingrich as "the only candidate I cannot vote for" and "a progressive, he knows he's a progressive, he doesn't have a problem with being a progressive," Beck issues a "challenge to the Tea Party" when they go to the voting booths and see his name on the ballot:
"If you have a big government progressive, or a big government progressive in Obama… ask yourself this, Tea Party: is it about Obama's race? Because that's what it appears to be to me. If you're against him but you're for this guy, it must be about race. I mean, what else is it? It's the policies that matter."
Judge Napolitano agreed, adding that he believed Gingrich was "so polarizing… the Democrats may succeed in turning the campaign away from the President's miserable three years in Washington." Beck agreed, citing "the establishment in Washington clawing for power" as the reason for his rise, and adding that "he makes Mitt Romney look like a small government guy." Beck did admit that "it would kill me to do it," but he could vote for Romney, which he could not do for Gingrich. The conversation was rounded out with an assessment of Rep. Ron Paul, who he noted was absolutely right in his opinion on the economy, but he "disagreed vehemently" on foreign policy with.
RELATED: Glenn Beck Asks Michele Bachmann About 'Shameless' Confrontation With 8-Year-Old
The segment via Fox Business below:

Have a tip we should know? tips@mediaite.com