'It is a Cult!' Joe Scarborough Goes OFF on MAGA Believing Trump Over Friends, Family and Religious Leaders
Joe Scarborough and Mika Brezinski took turns lamenting a new CBS/YouGov poll that reveals just how solid the base of Trump supporters' belief in the former president is. Recent polling shows that former President Donald Trump has an enormous lead over his GOP primary rivals.
In a poll taken August 16-18, after the Fulton County DA indictment, pollsters asked Trump voters who they feel what they tell you is true, to which 71% answered Trump, which was a higher number than Friends & Family, Conservative Media Figures, and Even Religious Leaders. From the poll: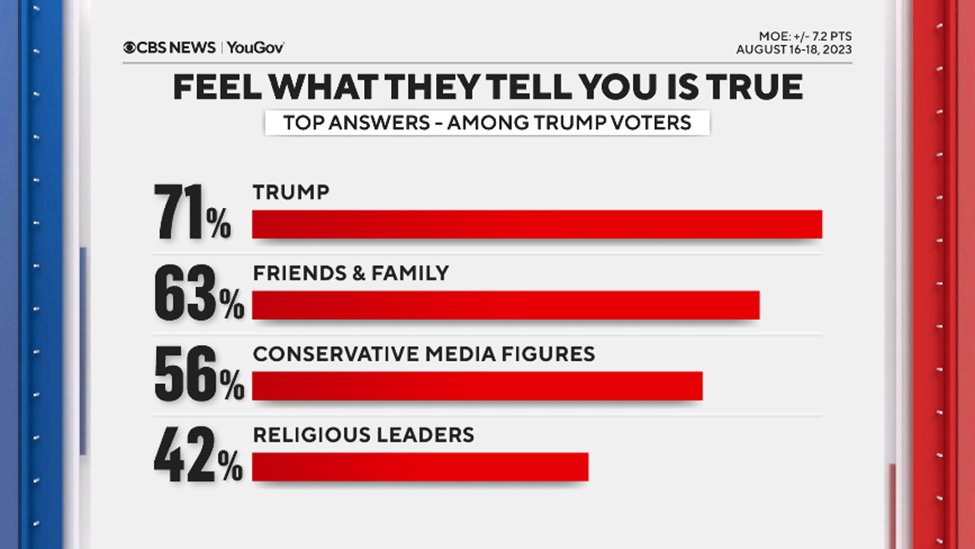 "They trust the former president even more than their own loved ones," Brzezinski said. "Let's put a frame around that. They trust the former president more than they trust their own loved ones. 71% say they feel what Trump tells them is the truth. I had friends and family at 63%, conservative media figures at 56%, and a religious leader at 42%."
Scarborough noted a recent dinner conversation he was having over the weekend in which he posed the question, "How could people support Donald Trump? And the question just kept coming up."
"And there were really no good answers except, you know, the question is, is it a cult? Is it you mean you look at it, Charlie? You look at the definition of cult leaders," Scarborough added. "I just saw this on Google. Off the top, cult leaders must be dynamic, charismatic, and convincing because their goal is to control their members to acquire money or power-related advantages. These characteristics are crucial because a cult leader needs his members to strictly adhere to his teachings and doctrines."
"How twisted it is just generally that in America, people follow a political leader like we always ask questions," the Morning Joe host continued, asking guest Charlie Sykes, "Why? Why do people have flags of a politician? Trump People might be proud of that. No, that's nothing to be proud of. Politicians serve us. "
"I think there must be happy that he tried to steal the election," Scarborough continued before pivoting to conservative media. "They heard the tapes and then conservative media figures, you know, people go, 'Oh, it's because they watch Fox. It's because they watch Fox.' Well, now, Trump members are attacking Fox News!"
"And then this is the most shocking thing coming from the evangelical church," he added. "Nearly 30% more people blindly follow their cult leader, Donald Trump, than their own religious leaders that say, please don't tell me about how this is a Jesus thing. It's not a Jesus thing. It's a cult thing."
Watch above via MSNBC.
Have a tip we should know? tips@mediaite.com
Colby Hall - Founding Editor