Jon Stewart Slams Obama, GOP, And Media For Big DC Scandals: 'Can Anybody Do Their Jobs In That Town?!'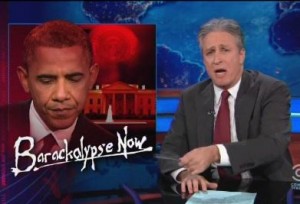 Jon Stewart continued hammering the Obama administration on two fronts tonight: first, for the scandal quagmire it's found itself stuck in for the past week, and second, for the continuing hold-up in the Veterans Administration. Stewart said if the government could put the same energy of election season into actually governing, maybe a lot more could get done in Washington. Though based on the way Obama, the GOP, and the media has been handling the big scandals going on, Stewart wondered that if anyone in that town is really capable of doing their job right.
RELATED: Jon Stewart Continues Piling On Scandal-Plagued Obama: He's Either Nixon Or Mr. Magoo
Stewart first took White House senior advisor Dan Pfeiffer to task for saying the White House normally isn't involved in the day-to-day work of the IRS, explaining the problem "is the gap between 'involved in' and 'aware of.'" Stewart, however, also tore into Republicans for hyping just how huge the scandals are for the Obama administration even as one of their leaders admitted that "I don't think we know what the facts are."
Normally, it would fall to the media to do its job where politicians failed, but Stewart ran clips highlighting how ABC's Jonathan Karl misquoted White House e-mails on Benghazi. Stewart sighed and asked, "Can anybody do their jobs in that town?"
Stewart also tore into the Obama administration for not fulfilling its pledge to deal with the VA backlog, which is apparently so bad, the floor of one field office is close to collapsing. Stewart mockingly sympathized that "running a bureaucracy with a single goal is complicated," before running an array of clips showing how Obama's 2012 campaign was able to operate with the kind of efficiency that could just as easily be applied to the backlog.
"If we could take the same urgency, enthusiasm, and clarity of vision you need to get elected to government and apply those to governing, can we fix some problems? Yes we motherfucking can."
Watch the video below, courtesy of Comedy Central:
—–
Follow Josh Feldman on Twitter: @feldmaniac
Have a tip we should know? [email protected]
Josh Feldman - Senior Editor