Lawrence O'Donnell Asks Tax Attorney If Romney May Be Hiding A Felony In His Tax Returns
O'Donnell Asks Tax Atty. If Romney May Be Hiding A Felony In His Tax Returns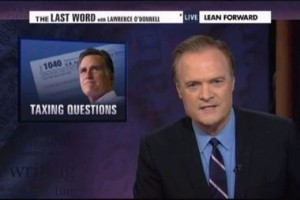 On MSNBC tonight, Lawrence O'Donnell raised a rather provocative question on his show tonight: did Mitt Romney participate in an IRS amnesty program in 2009, and was his refusal to report it a felony? He brought this up in the context of the renewed scrutiny of Romney's tax returns after the recent allegations made against him by Senate Majority Leader Harry Reid.
RELATED: Perino: Obama Campaign's Felon Attacks On Romney Makes President 'Look Like A Bad House Candidate'
Responding to Eric Fehrnstrom asking Reid, "Have you no sense of decency, sir?", O'Donnell said that the Romney campaign is attempting to compare Reid to Joe McCarthy. He then pointed to Romney telling Reid to "put up or shut up" on Sean Hannity's radio show today, saying that Romney could easily shut up Reid and "show his tax returns." He argued that the longer Romney takes to do so, "it costs him politically."
After reading a statement by Reid regarding his initial comments and Romney's response, O'Donnell brought up an IRS amnesty program regarding foreign bank accounts, and asked if Romney was involved in the program and didn't report it, if it means he has committed a felony. Tax attorney Jeremy Temkin said it would have to be demonstrated that it was not done "willfully," and the government would have to prove that one knew they had "an obligation to report" in that instance.
The Huffington Post's Sam Stein said that if it came out that Romney was involved in such a program, it would certainly hurt him politically. He admitted that the news is presuming innocence and acting uncomfortable calling Romney out before any information is released, but said Romney essentially invited the scrutiny on himself through his campaign's lack of transparency.
Watch the video below, courtesy of MSNBC:

—–
Follow Josh Feldman on Twitter: @feldmaniac
Have a tip we should know? tips@mediaite.com
Josh Feldman - Senior Editor