Leon Panetta: After Informing Obama Of Benghazi Attack, No Additional Contact From The White House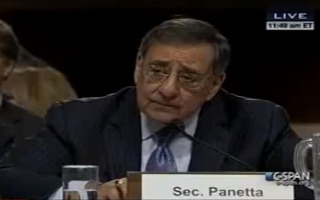 On Thursday, outgoing Defense Sec. Leon Panetta testified before a Senate committee regarding his knowledge of the events leading up to and immediately following the September 11, 2012, attack on an American consulate in Benghazi, Libya. He testified that he did not receive any communication from the White House on the night of the attack after initially informing the president of the situation on the ground in North Africa.

Panetta testified that he did speak directly with the president on the night of the attack. He said he informed Barack Obama of the ongoing situation and was directed to respond appropriately.
Sen. Kelly Ayotte (R-NH) asked if the president made any requests for additional information on American security assets that were in the region which could have responded to the ongoing attack. Panetta replied that the president was generally aware of what regional assets could be deployed, but he did not request any specific information on that night.
"Did you have any further communications with [President Obama] that night?" Ayotte asked.
"No," Panetta replied.
"Did he ever call you that night to say, 'how are things going? What's going on? Where's the consulate?'" Ayotte followed up.
"No, but we were aware, as we were getting information that was taking place there, particularly when we got information that the ambassador [Chris Stevens] – his life had been lost – we were aware that that information went to the White House," Panetta added.
"Did you communicate with anyone else at the White House that night?" Ayotte asked.
"No," Panetta responded.
Watch this segment of testimony below via C-SPAN:
h/t TammyBruce.com
> >Follow Noah Rothman (@NoahCRothman) on Twitter
Have a tip we should know? tips@mediaite.com