Maher Distinguishes Between His Bush Insults And Conservative 'Disrespect' Towards Obama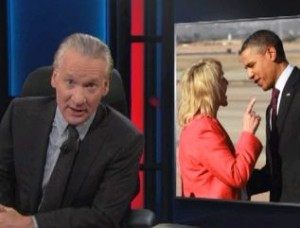 Bill Maher revisited a recurring theme of his show in his final New Rule tonight: conservatives actively disrespecting President Obama to his face. From Congressman Joe Wilson to Bill O'Reilly, Maher argued there is a consistent pattern emerging that Obama is being treated far worse by his opposition than any Democratic president of the past fifty years. And as he did exactly a year ago, Maher patiently acknowledged the numerous insults he threw at George W. Bush, but insisted upon the difference between someone like him or Sean Hannity attacking a sitting president and someone scolding him to his face.
RELATED: Bill Maher Responds To Claim From O'Reilly And Scarborough That He Is A Hypocrite
Maher went down a list of his most insulting nicknames for Bush, before admitting he would have never called the former president "a rube" to his face, even if he was served the opportunity on a silver platter. But, Maher said, that's not how conservatives have been with Obama, because of the multiple instances of people "going apeshit in his presence." He pointed to presidents like Jimmy Carter, Bill Clinton, and Lyndon Johnson for doing all the things Republicans hate Obama for, and yet those presidents were treated with "a modium of respect, at least to their faces."
Maher was even willing to acknowledge that the Clinton impeachment was at least done "through proper legal channels" and was somewhat dignified. But Maher couldn't even begin to imagine what kind of outrage there would be if Obama was ever caught in a similar sex scandal. Comparing the president to Jackie Robinson and the insults he had to put up with from white baseball fans, Maher concluded that the president has done absolutely nothing to warrant treatment unbefitting of the Commander-in-Chief.
RELATED: Bill Maher & Panel Battle Over Gov. Jan Brewer-President Obama Confrontation
Watch the clip below, courtesy of HBO:
Have a tip we should know? tips@mediaite.com
Josh Feldman - Senior Editor