Matthews Lectures Limbaugh: 'Racism Is The Belief That One Race, Whites, Should Rule All Others'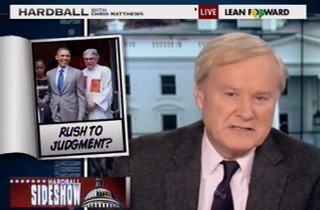 MSNBC Chris Matthews has a sociological lesson for conservative radio host Rush Limbaugh. After playing a clip of Limbaugh identifying racial antipathy in comments made by a pastor who spoke in front of President Barack Obama, Matthews took Limbaugh to school on the definition of racism. He said that racism, by definition, is the belief that white people alone should "rule" all other races. This is a "definition" unknown to students of global racial conflict.

RELATED: Rush Limbaugh 'Freaked Out' That He Agrees With Vladimir Putin On Banning Gay Adoption
Rev. Luis León presided over Easter Sunday services attended by President Obama recently, and has taken fire from the right for suggesting that racial hatred lurks in the hearts of conservatives.
During his radio show, Limbaugh agreed with a caller who suggested that León was merely following the president's lead in accusing the right of latent racism.
"Actually, Rushbo, racism is the belief that one race – whites — should rule all others," Matthews confidently declared. "Get your definitions straight."
While the history of racial discrimination by whites against minorities in the United States and around the world is voluminous and ongoing, racism and racially motivated violence is by no means a phenomenon limited to white people.
On every populated continent on earth, racially motivated discrimination is an ongoing problem: Malaysian schools discriminating against Chinese students, Indian Hindus discriminating against Muslims, Zimbabwean militias ransacking white-owned farms, Libyan rebels targeting black residents, Israeli Jews discriminating against Palestinians, et cetera.
And these are just the presently raging across the globe, to say nothing of the tragic history of racial violence around the world. And this is purely ethnic, to say nothing of religious intolerance fueling global discord and complicating international relations.
Matthew's claim that white people are the sole practitioners of racism is plainly, almost proudly, ignorant. Furthermore, such a statement suggests a lack of intellectual rigor or even curiosity about the nature of global conflict. At the very least, statements like these do not serve the audience of a news program.
Watch the clip below via MSNBC:
> >Follow Noah Rothman (@NoahCRothman) on Twitter
Have a tip we should know? tips@mediaite.com