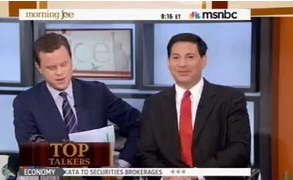 The biggest problem with yesterday's revelation that Texas Gov. Rick Perry has reopened the President's birth certificate as a campaign issue was the fact that there was no audio or video of Perry's interview with Parade Magazine. Morning Joe host Joe Scarborough remedied that situation, somewhat, this morning, when he drafted Willie Geist and Mark Halperin into a dramatic reenactment of the beleaguered former frontrunner's absurd interview, in which he expresses doubt about the President's birthplace.

Scarborough pressed Geist and Halperin into thespian service to reenact this Perry exchange with Parade:
Governor, do you believe that President Barack Obama was born in the United States?

I have no reason to think otherwise.

That's not a definitive, "Yes, I believe he"—

Well, I don't have a definitive answer, because he's never seen my birth certificate.

But you've seen his.

I don't know. Have I?

You don't believe what's been released?

I don't know. I had dinner with Donald Trump the other night.

And?

That came up.

And he said?

He doesn't think it's real.

And you said?

I don't have any idea. It doesn't matter. He's the President of the United States. He's elected. It's a distractive issue.
Halperin seems torn as to whether the interviewer was a woman or not, and Geist does a creditable Rick Perry impression, but the real treat here is Scarborough's reactions. The host keyed in on one particularly absurd comment of Perry's, saying, "There is one bizarre moment when the interviewer asked Perry, how does he not know that he's from the US? He has seen the birth certificate. He said, 'He has never seen my birth certificate.'"
Scarborough also asked if "distractive" is even a word (it is), and said, "I have no defense for this."
He also anticipated the knee-jerk "RINO" conservative reaction to his criticism, but Scarborough summed this crop of GOP candidates perfectly. "This is lunacy," he said. "This is the sort of thing that, not so many years from now, people will look back at the candidates and say 'What idiots. What total idiots.'"
"I suspect we will do what Republicans do," he continued, "and there will be a shake down, and the idiots will be thrown overboard, and we will elect a boring John McCain type, and get Mitt Romney, and maybe lose."
From Scarborough's lips to Reagan's ears.
Here's the clip, from MSNBC's Morning Joe:
Have a tip we should know? tips@mediaite.com