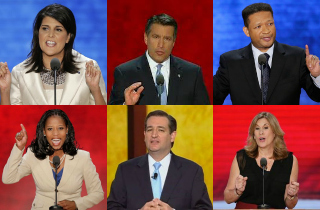 Depending on what websites you read last night, you might think MSNBC purposely avoided airing the speeches of several ethnic minority Republicans to further their progressive personalities' narrative of the GOP being "racist".
RedAlert, Hot Air, The Daily Caller, and Town Hall were among the right-leaning websites who ran with the story that MSNBC had purposely neglected to cover the minority speeches.
We here at Mediaite also received many tips suggesting we check out these websites' reports on the egregious racial move by MSNBC. One reader wrote that "MSNBC has proven they are the racsits [sic], and yet Mediaite refuses to present this fact?" and implored us to read about it "all over the internet; you look silly ignoring it."
So we took a look at the Internet, and here's what we found:
"MSNBC wants you to think the Republican Party hates minorities," wrote RedAlert's Francesca Chambers. She cited as evidence MSNBC's lack of coverage of the speeches by black congressional candidate Mia Love, Hispanic Nevada Gov. Brian Sandoval, Cuban-American Senate nominee Ted Cruz, black former Democratic Rep. Artur Davis, and Puerto Rico's First Lady Lucé Vela Fortuño.
"To fuel their false 'GOP is racist' argument, MSNBC conveniently cut every speech given by a minority," wrote Town Hall editor Katie Pavlich in a reaction article titled "Pathetic".
Indeed, a purposeful omission of the minority speakers would be "pathetic," except for one glaring detail that all of these publications themselves omitted:
With the exception of black former Democratic Rep. Artur Davis, MSNBC and Fox News covered and omitted the same exact speeches.
Both networks aired the speeches by NH Senator Kelly Ayotte, Ohio Governor John Kasich, Wisconsin Gov. Scott Walker, Virginia Gov. Bob McDonnell, Ann Romney, and NJ Gov. Chris Christie.
But for minority speakers, here's a handy guide to how the rival networks broke down coverage:
Mia Love: MNSBC was in commercial; Fox aired Shepard Smith's coverage of Hurricane Isaac from New Orleans.
Brian Sandoval: MSNBC aired hurricane coverage; Fox's Sean Hannity interviewed Rep. Eric Cantor.
Ted Cruz: MSNBC cut to panel analysis of the convention; Fox went to commercial and returned with a Scott Walker interview.
Artur Davis: MSNBC aired panel discussion, mentioned his speech 5 minutes in, but didn't air it; Fox aired the entirety of the speech.
Nikki Haley: both MSNBC and Fox News aired the speech.
Lucé Vela Fortuño: MSNBC aired more roundtable discussion; Fox News cut away to discussion by Bret Baier and Megyn Kelly.
So with the exception of former Rep. Davis, MSNBC did not omit any speeches that Fox News did not also omit.
Conservatives could make a case that MSNBC's Davis omission was wrongheaded because of it being the important "Zell Miller" moment of this year's RNC (and because the network will likely air Charlie Crist's DNC speech). If anything, the omission of Davis' speech should what conservatives focus on.
But to accuse the cable network of purposely omitting minority speeches to further a "racist" narrative is just outright false when confronted with the facts. And assigning "purposeful" omission to MSNBC is especially wrong when they covered the speeches almost exactly the same way Fox did.
>> Follow Andrew Kirell (@AndrewKirell) on Twitter
This is an opinion piece. The views expressed in this article are those of just the author.