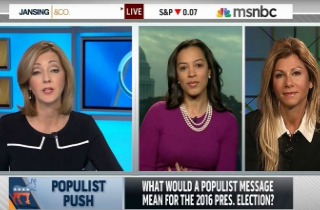 On Monday morning's Jansing & Co., a balanced panel of political contributors examined the phenomenon of the rise of the progressive wing of the Democratic Party. The panel guests cautioned that, not unlike how the rise of the tea party within the GOP forced the party to the right and alienated the broader electorate, the rise of the far left-wing of the Democratic Party could also reduce the party's broader electoral appeal.

MSNBC anchor Chris Jansing opened the segment by observing that progressives within the Democratic Party feel like they are getting "traction." She cited a successful left-wing push to scuttle a budget proposal that would have reformed entitlements and an increase in protests against fast food providers as evidence of this shift in political momentum.
RELATED: Elizabeth Warren: GOP Making 'Naked Attempts to Nullify' 2012 Election
"Is the center of the Democratic Party being outmaneuvered by the left?" Jansing asked.
"I think the entire party is on the move, Chris," said Democratic strategist Angela Rye. She said that Americans are embracing Democrat's shift to the left when it is framed in terms of "fairness," like the recently invoked "nuclear option" in the Senate.
Jansing added that Sens. Elizabeth Warren (D-MA) and Bernie Sanders (I-VT) are being floated as potential progressive alternatives to Hillary Clinton ahead of the 2016 presidential race.
Republican strategist Noelle Nikpour said that Democrats should be weary of the rise of the "lunatic fringe" within their ranks.
"I think the further the Democratic Party moves to the left, the extreme left-wing, the worse it's going to get," Nikpour said. "You've got to remember that President Obama campaigned originally more like [Ronald] Reagan, and when he got to be president we got more of the likes of Jimmy Carter."
Rye agreed that Democrats are not well-served by elevating their party's fringe voices to prominence. "I think we may have a little bit of a challenge with getting some folks that are, you know, very extreme left to the White House," she submitted.
Nikpour noted that the lesson of the tea party's rise within the GOP was that it turned off the majority of Americans. She advised Democrats to internalize those lessons ahead of 2016.
Watch the clip below via MSNBC:
[Photo via screen grab ]
— —
> >Follow Noah Rothman (@NoahCRothman) on Twitter
Have a tip we should know? tips@mediaite.com