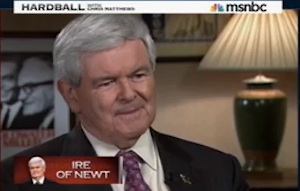 On MSNBC's Hardball, Chris Matthews went head-to-head with flailing Republican presidential candidate Newt Gingrich. Gingrich had strong words for fellow GOP opponent Mitt Romney. "He's not going to be the nominee," Gingrich boldly declared.
RELATED: Chris Matthews On 'Nasty' Looking Newt Gingrich: 'Dogs Walk Away When They See Him'
In the interview, Matthews mentioned that Gingrich had snarked Romney with an SNL jab.
Matthews: You called him a Saturday Night Live joke.

Gingrich: Well, that ad was a SNL joke – for a Massachusetts moderate to put out an ad questioning my credentials as a conservative, it's the kind of chutzpah that you don't really quite expect to find in someone like Romney.

Matthews: Let's talk about Tampa. I have always thought, watching this thing from the other side, I could see it from the middle sometimes and sometimes sympathetically. I look at this tea party phenomenon – how do these people and their representatives go to Tampa at the end of this summer when it's sweltering down there. I always like to the get the atmosphere in there – it's hot, the humidity is 105 degrees, and they sit around and cheer Mitt Romney? How does that work?

Gingrich: It won't. He's not going to be the nominee.

Matthews: Could it work if he were the nominee? Would [the tea party] ever be able to cheer him on there?

Gingrich: They would never cheer him. Why would they cheer someone – if you were a Tea Party person, why would you cheer someone who raised taxes, created the prototype of Obama care – appointed liberal judges to appease the Democrats – that's his line, not mine – and put in taxes paid abortions, took care of Planned Parenthood… here's any easy question for you to answer — – name one conservative accomplishment or public policy of Romney's.
Watch Matthews and Matthews go mano-a-mano on Hardball below via MSNBC:

Have a tip we should know? tips@mediaite.com