Pundits Make Own Diagnoses, Attack WH Doctor Because They Can't Handle Trump's Good Health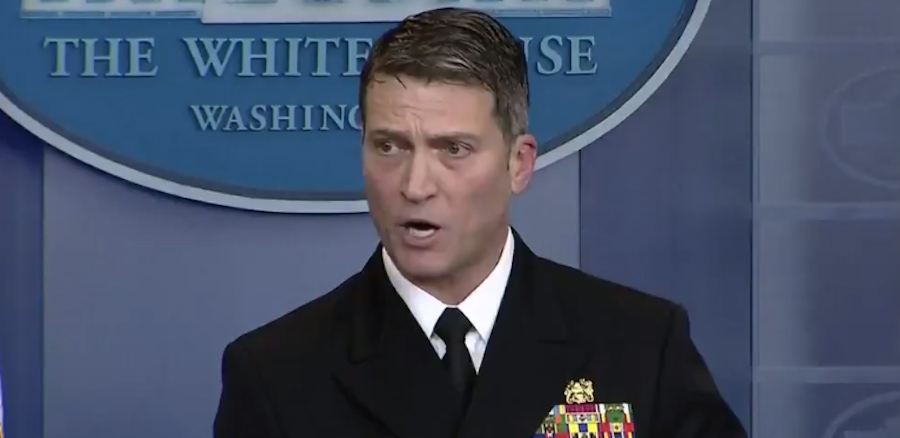 This week, White House physician Dr. Ronny Jackson spoke to the press for more than hour about President Donald Trump's physical and mental health. And the results were shocking… to the reporters in the room.
Throughout Trump's first year in office, several folks in the media have repeatedly questioned his mental fitness. Whether it was because of a rally he gave or for his remarks after Charlottesville or his tweets knocking Kim Jong-un, over and over and over again they play psychologist and diagnose the president with dementia and other assorted ailments. And the parade of mental health "experts" is rather long, including Morning Joe hosts Joe Scarborough and Mika Brzezinski, MSNBC's Lawrence O'Donnell, CNN's Jake Tapper, Brian Stelter, and Carl Bernstein, The View's Joy Behar, Art of the Deal writer Tony Schwartz, Fire and Fury author Michael Wolff., and the New York Daily News. And we can't forget the countless elected Democrats that have also pushed the "Trump's crazy" narrative.
Well, this week Dr. Jackson threw a wet blanket over all of that.
The physician went into great detail about Trump's "excellent" check-up, revealing his weight, resting heart rate, blood tests, and even the medicine he takes. Aside from being overweight, Jackson praised Trump's eyesight, dental hygiene, cardiac performance, and most notably, his cognitive abilities, calling him "very sharp" and adding he has "no concerns" about his mental health.
This doctor isn't some kook like Trump's former physician Dr. Harold Bornstein. Jackson served both President George W. Bush and President Barack Obama and was a two-star admiral in the Navy. His credibility is rock-solid.
And judging from the avalanche of questions Jackson faced, the reporters almost seemed disappointed that the president was in good health. CNN's Jim Acosta pressed Jackson if there anything he was "keeping from us" from Trump's health records as if he were a part of some sort of medical coverup. The physician even received pushback from another reporter  after Jackson insisted that Trump would be healthy enough to serve another term if reelected and was asked for a "life expectancy range" based on the results. Yikes.
So now that Dr. Jackson put the rumors of Trump's health to rest, his media diagnosticians will finally move on, right? Nope.
The White House physician has sparked rage within the many in the media because he crushed their fantasies that Trump's physical and mental health would cut his presidency short. So what did they do instead? They came up with their own diagnoses. CNN's medical correspondent Dr. Sanjay Gutpa, a neurosurgeon, declared that Trump has heart disease based on the president's coronary calcium numbers even though Dr. Jackson flat-out denied such a diagnosis (and Gupta has already faced backlash). There is literally a "girther" movement because some refuse to believe Trump is one pound away from being obese and are skeptical about his height. And now Dr. Jackson is facing vicious personal attacks, the first coming from Joe Scarborough.
"Not a single respectable doctor in America would say what he said. So are we questioning his integrity? No, we're not. I'm just questioning his motivations. Maybe he just likes eating at the White House mess hall. I don't know, but his own words are not the words of a physician, they're the words of a political hack."
Scarborough was so upset that Dr. Jackson sounded favorable about his patient that he was willing to besmirch his reputation simply because the physician didn't tell him the "good news" that he and many in the media wanted to hear; that the president was unfit to serve. He went on to call the doctor "shameful," but he should look in the mirror.
Within the past year, Trump's media critics have developed four go-to excuses for virtually everything he does that they don't like; he's racist, he's sexist, he's authoritarian, or he's mentally ill. God forbid they use reason to criticize this president when he's wrong instead of using inflammatory rhetoric and smears. But give it a couple of weeks and they'll revive speculation regarding Trump's mental fitness again. Let's be real, do we honestly expect Scarborough and Wolff to suddenly stop questioning Trump's sanity? Of course not. They've got ratings to get and books to sell.
At this point, anyone who denies Dr. Jackson's findings is simply denying reality and they should be ridiculed just like the InfoWars crowd because they're knowingly feeding into conspiracy theories. Anyone who continues the narrative that Trump isn't mentally or physically fit to serve is only spreading disprovable nonsense and they should be held accountable.
This is an opinion piece. The views expressed in this article are those of just the author.