Rachel Maddow's Anger At U.S. Senate: 'Game Over' For Support From Obama Base?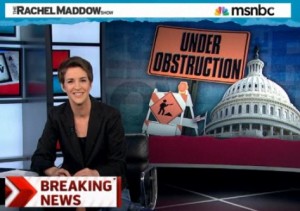 Last night the U.S. Senate voted on a bill that will extend the current Tax Cuts first put into place by President Bush after Senator Harry Reid appeared to capitulate to the threat of a Republican filibuster. This appeared to frustrate, if not anger MSNBC's Rachel Maddow last night, and not only because it messed up the rundown of her show. It understandably irked the self-described progressive because it was just another example of, as she put it, "this phenom of passing bills in the house only to see it die in the Senate."
Maddow ran trough a litany of examples where House Speaker Nancy Pelosi was successful in moving legislation consistent with both Obama's and the progressive agenda forward through the House, only to see it die in the U.S. Senate. Then Maddow made very clear the stakes put forth by Senator Reid's consistent surrender to the GOP:
With the endless obstructions and delay tactics. The margins that Democrats have over Republicans has been equal. Things have died in the Senate, not because Democrats didn't have the votes. They had the votes. The senate broke. Without President Obama recognizing that is the U.S. Senate and acknowledging it is a broken institution that may be should be fixed, it's sort of game over in terms of the rest of his agenda. It's therefore sort of game over for his support from his base. Especially with a whole slew of Republicans on their way to Washington in January.
Maddow's statement should not be viewed as a threat, but rather an understandable effect caused by the impotent combination of a weak Senate Majority leader Reid, and a President so averse to confrontation within his own party that he's unwilling to recognize how the U.S. Senate is the weakest of all links. Therefore, speaking for a progressive base that is continuing to become more disillusioned with this administration, it completely stands to reason that Maddow and her audience would begin to look elsewhere for effective leadership.
Watch the clip from MSNBC below:
Have a tip we should know? tips@mediaite.com