Reliable Sources Panel Debates Whether Sarah Palin Is Getting Too Much Media Attention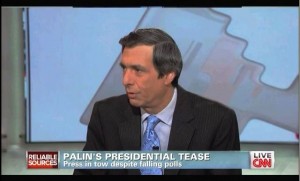 There are currently about… seven thousand Republicans officially in the presidential race so far, and yet many in the media cannot take their eyes off Sarah Palin. Whenever the former Alaska governor appears in public, she gets a fair amount of coverage in the mainstream media. Is the coverage excessive? That's what today's Reliable Sources panel examined.
Howard Kurtz thought the media was "falling for this Palin-tease all over again," despite no indication that she is actually definitely considering a presidential run. Newsweek's Eleanor Clift thought many reporters who actually have to cover Palin would privately act skeptical and "angry that they're being led into this game that she's playing." In other words, they're just "covering their backsides" in case she runs.
However, National Review writer Jim Geraghty pointed out there was a definite endpoint in the Palin-MSM game: November 1, the deadline for filing in South Carolina. So if Palin does not announce by then, he argued, she's not interested in running.
But going against conventional wisdom, Lynn Sweet of the Chicago Sun-Times defended the media's coverage of Sarah Palin, and argued that it was not that excessive.
"She is a legitimate American political phenomenon, and at some point we will know if she will run or not, and in the meantime her messages do have an impact on the Republican field."
Kurtz and the panel agreed that candidates do this all the time, and once someone announces their presidential intentions, they lose a certain aura of mystery and their presence in the media fades a little. However, in Palin's case, Geraghty predicted if she doesn't run, the media will still speculate over her intentions anyway. Namely, who she will endorse, if she will endorse anyone, and what she has to say about the candidates.
Watch the video below, courtesy of CNN:
Have a tip we should know? tips@mediaite.com
Josh Feldman - Senior Editor