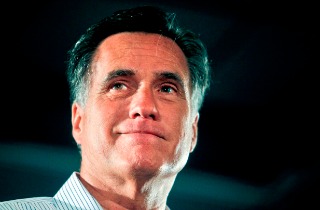 The smug self-assuredness that often suffices for expertise on cable news was perhaps never more smug than when former Republican presidential candidate Mitt Romney warned the American public that Russia was rapidly positioning itself as America's "number one geopolitical foe." Among the worst offenders were the hosts and guests who provide MSNBC with content on a daily basis.
In early 2012, President Barack Obama was caught on an open microphone telling Russia's then-President Dmitry Medvedev that he would have more "flexibility" after the presidential election in his dealings with Russia. Romney reacted strongly to that comment. Appearing on CNN, the GOP nominee said that the United States should regard Russia as a geopolitical adversary and should work to limit Russia's flexibility rather than to secure it. His observation was soundly criticized by the president's defenders who, at the time, were still attempting to rehabilitate Obama's floundering "Reset" with Russia.
There were few who defended Romney's comments. Even snake-bit Republicans, chastened by the swift backlash in the media, hedged when asked to back up Romney's assessment of the challenges posed by Moscow. But MSNBC's wagons circled particularly quickly in defense of the president. Volley after volley of snark was lobbed in the GOP nominee's direction.
"I don't know what decade this guy's living in," MSNBC host Chris Matthews said with a sigh on March 28, 2012. "Is he trying to play Ronald Reagan here, or what?"
"This is Mitt Romney's severely conservative problem," University of Georgia professor Cynthia Tucker opined on-the-air. "It made Romney look dumb. He's not a dumb man, but he said something that was clearly dumb."
Huffington Post reporter Sam Stein agreed that Romney's statement was evidence of an "antiquated worldview." He fretted further about how Romney, should he become president, would enter the office having severely complicated America's bilateral relations with Moscow given his carelessly provocative statement.
"I personally am worried about what it says to the Russian people," Matthews added to a chorus of sagely nods. Watch below:
MSNBC hosts Rachel Maddow and Lawrence O'Donnell got in on the self-satisfied ridicule, too. Promoting Maddow's latest book about the "unmooring of American military power," O'Donnell asked the flagship MSNBC host if Romney was merely reflecting on what he might have read in that book.
"He read about Reagan's private, outside-the-CIA cabal of team-B zealots who were telling him that Russia had all the stuff they didn't have so he could justify a giant defense budget," Maddow submitted scornfully.
"It is amazing that Mitt Romney can flip like that just as soon as he hears something to exploit in foreign policy," O'Donnell remarked. Watch that below:
Maddow took her observations about Romney's position on Russia one ill-advised step further on her MSNBC.com blog:
I can appreciate why the Romney campaign would try to make Obama's "hot mic" story interesting, but the problem is the former governor just doesn't have any real policy chops in this area. He's out of his depth, and struggles when the subject takes center stage.

It's not just that Romney is uninformed; it's that he hasn't figured out how to fake it.
Appearing on Andrea Mitchell Reports in April of that year, Romney surrogate and former Mississippi Gov. Haley Barbour was confronted by the MSNBC anchor. Calling Romney's comments "a throwback to the Cold War," Mitchell insisted that "we work with Russia all the time." "Hardly an ally but certainly not an adversary," she declared. Video below:
But the worst offender was one who should have, and likely did, know better, former Secretary of State Colin Powell. The former Army general greatly entertained his MSNBC hosts with some of the most snide commentary about Romney's observation.
"Come on, Mitt. Think," Powell said of Romney's remark in May to the chuckles of host Joe Scarborough. "That isn't the case."
He went on to suggest that Romney's assessment of the threat posed by Russia was so dubious that it was possible he was being disingenuous or he was coached to make that statement. Video:
"I think he really needs to not just accept these cataclysmic sort of pronouncements," Powell admonished. "Let's not go creating enemies where none yet exist."
"Does this mean that we should trust Putin or Medvedev?" he continued. "No. Let's be mature people and look at the reality of the situation and not find ways to see if we can hyperbolize the situation." Video here:
Just shy of two years later, Russia would invade its neighbor on a trumped up pretext with the aim of annexing that territory. They would justify this action by insisting that Moscow has the legal right to protect by military force ethnic Russians in territories abroad – a second flagrant violation of international law and norms in the space of a decade.
The president and his political appointees were the worst offenders when it came to mocking Romney's clearly vindicated assessment of the threat posed by Russia. "The 1980s called, they want their foreign policy back," Obama told Romney during a presidential debate. "Romney talks like he's only seen Russia by watching Rocky IV," Secretary of State John Kerry announced to a squealing crowed at the Democratic National Convention.
This habit has apparently died hard. Obama's advisors are still scoffing at their Republican counterparts in the flailing effort to mask their own readily apparent failures even as Russian heavy artillery rolled across the border.
These and other dubious assurances are forgivable from the political class, but they are inexcusable coming from self-described members of the press. Their job is to determine accuracy or validity of the statements made by political actors in order to separate fact from fiction. That responsibility was abdicated by the personalities above in 2012 in defense of their preferred political outcome. That kind of behavior is so many things, but one thing it is not is journalism.
[Photo via Reuters]
— —
> >Follow Noah Rothman (@NoahCRothman) on Twitter
Have a tip we should know? tips@mediaite.com