Sarah Palin Praises Rep. Bachmann's Debate Attacks On Rick Perry's 'Crony Capitalism'
Palin Praises Rep. Bachmann's Debate Attacks On Gov. Perry's 'Crony Capitalism'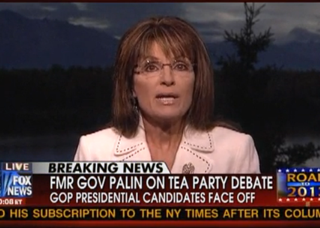 Sarah Palin is not Ronald Reagan— that she made clear on tonight's On the Record, where she delivered her feedback on tonight's CNN/Tea Party debate. She appeared particularly impressed by Rep. Michele Bachmann, thanking her for going after Texas governor Rick Perry for mandating HPV vaccines for children, which Palin called "crony capitalism" that was healthy to attack, defying Reagan's 11th Commandment.
Palin began with some general remarks on the debate, noting that "the winner was the Tea Party" for being validated as a significant political contingent, but not picking a specific candidate as a winner. It became clear rather quickly, however, that some candidates pleased her far more than others. She particularly approved of the way Rep. Bachmann went after Gov. Perry for his mandate on HPV vaccines– vaccines that, as governor of Alaska, Palin declined to mandate. She noted that Perry's former chief of staff was a lobbyist for the pharmaceutical company behind the vaccine, and called that "crony capitalism."
"That's good… to call one another out on that," Palin noted, as was it good to "fight crony capitalism." "You have to go up against the big guns and they will trying to destroy you," Palin argued, "I have the bumps and the bruises to prove it." She predicted that Rep. Bachmann was "going to get crucified by some in the party who say 'don't violate Reagan's 11th Commandment,'" one Palin made clear she had no intention of following herself, as she praised Rep. Bachmann for ignoring it. Palin concluded that the criticism within the Republican Party would strengthen it, as it would force candidates to improve their governing skills in the long term.
The segment via Fox News below:

Have a tip we should know? tips@mediaite.com